Well folks, there was something brand new that was officially announced or released today for Red Dead Redemption 2. There was some speculation that Rockstar might reveal what the multiplayer might be like or what more of the story could entail.
Instead though we were treated to a brand new trailer which is definitely not a bad thing as it definitely reveals a lot more about what to expect in the upcoming open world western. Now that the Red Dead Redemption 2 Announcement is out of the way and a new trailer was revealed, let's actually just get right to it shall we? Take a look!
I am very impressed with what has been revealed in the second official trailer for the game. First of all, check out how gorgeous the graphics look.
You can see the grass and trees swaying in the wind at the beginning, the draw distance looks to be among the best ever seen in a video game to date, especially when it comes to the home consoles, the animals look even more realistic than before and it seems the entire game world will be far more interactive than what we've seen in a Red Dead game.
We also get to see that some of the characters have been revealed and also get a taste of what to expect from the story.
The name of the character you see throughout the trailer is known as Arthur Morgan. He seems to be a member of a very dangerous gang that John Marston was once a part of known as the Van der Linde Gang. It seems this particular gang is constantly on the move looking for people who owe them money as well as keeping ahead of the law in the game.
Other notable things to mention in the trailer is that trains certainly look to be more heavily involved than what was in the first game. I have to go on a hunch here and say that there are going to be train heists done in a somewhat similar fashion as to what the heists were in Grand Theft Auto 5.
That's not necessarily a bad thing as they were well done and thought out by Rockstar. I'm sure you'll have to do a number of things to build up to doing a train heist such as getting different kinds of equipment, finding which trains carry the most valuable items, what times the trains will pass a certain area, etc.
The trailer also shows that hunting will return for this game and I would say it has an even bigger role this time. I like that you can use a bow and arrow or other things that you might have at your disposal. 
Weather may also play a much bigger role in Red Dead Redemption 2. Here's to hoping there's a true dynamic weather system in the game. You'll definitely see snow in the trailer, but it remains to be seen if it is part of a weather system or just snow in a certain spot in the game which was similar to the last one.
I certainly would like to be on the run in the game and suddenly a large storm comes up unexpectedly. We'll definitely have to wait and see on this or hopefully Rockstar will shed more light on the weather.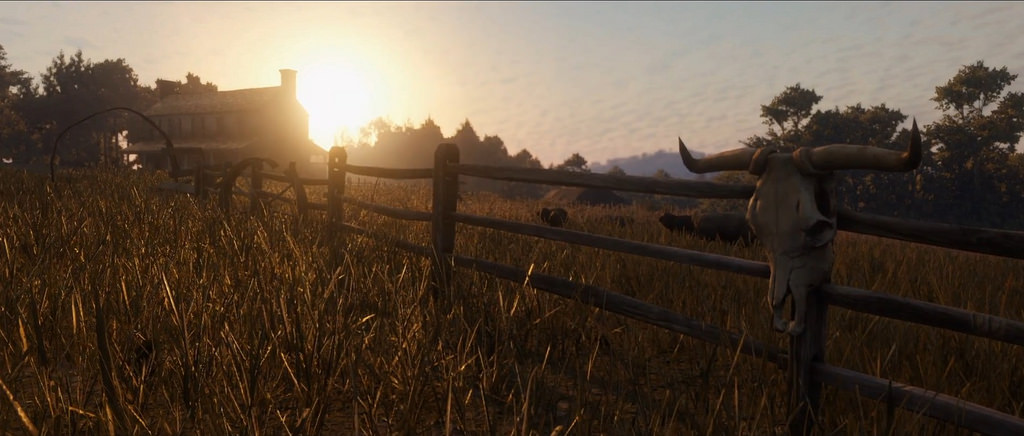 As you can tell, there are different kinds of environments in the game. We know that the Plains will be prominent in the game, but mountains will be there also and there are even swamps as evident by the alligator that was seen in the trailer. It has been said that the city of New Bordeaux will be in the game which I mentioned before as being in Mafia 3.
Overall, I'm pretty excited by what is shown in this new trailer by Rockstar. We definitely get to see how gorgeous this game looks graphically, and we get to see a main character that you'll be using in the game as well as part of the gang you'll ride along with. 
There's still no official release date for RDR 2, but we do know it will be out sometime in spring or possibly summer of next year so you'll definitely want to stay tuned and there will probably be more stuff released about the game before then so please check back. Feel free to post your comments and thoughts about the Red Dead Redemption 2 Announcement of the new trailer that was revealed to the public.