After giving my initial first impressions of the newest iteration of Need For Speed, it is time for a full review of the game. Has anything changed from my initial first impressions? The answer to that is yes, as I'm really liking the game. Is the new Need For Speed an open world game worth purchasing? Read on in my Need For Speed 2015 review to find out.
First thing you'll notice is the movie like cut scenes which will focus on 5 main people in the game (minus yourself as it'll be a first person perspective in the cut scenes). What I started to realize as I'm getting further into the game after doing a lot of the races and challenges in the game is that each of the five people represent each of the game's major racing themes which will range from speed to drifting and even escaping from the cops.
Now I don't want to spoil everything in the game, but doing challenges in all of these themes will head towards someone who is well known for auto in real life. As far as the main characters, which you'll frequently hear from in the game's cell phone, they do seem kind of corky at first but they do eventually grow on you in time. They will definitely call on you quite often in the game to get you to do some challenges against themselves or others so that you can advance the story.
I want to talk a little bit about the graphics and the open area of the game. For this generation of game systems, they look pretty good and it is awesome how the rain beads just glisten off whatever vehicle you choose to drive and the car models themselves look pretty identical to their real life counterparts.
I would say they are very close to the car models of the PS4's Driveclub or Xbox One's Forza series. The fictional city you drive in which is loosely based off of Los Angeles is pretty big with multiple areas of the city to explore, from industrial, to suburban, and even way up in the hills and mountains. There are many different types of road surfaces from slick city streets, to some dirt roads in the more far flung areas of the map to open highways.
Something I have to mention though is that while the open world that you get to drive in is large and looks impressive, the city itself seems nearly devoid of traffic. Sure you'll encounter it here and there, but just not as much as even the last Need For Speed game or even Midnight Club Los Angeles from the previous generation.
Nevertheless though if you're not paying attention during a race, what traffic there is can cause you to lose precious time if you drive into them. Also, it is pretty much almost always night in the game though occasionally it'll go to dusk or dawn, but it doesn't last long and you're quickly back to night. The roads are also always rain slicked and it makes you think it rains here all the time. Your car will also suffer some physical damage, but nothing too catastrophic.
You'll still be able to participate in the challenges, but your car will definitely look banged up. Not to worry though you can take your car to the game's main garage and it is an automatic repair.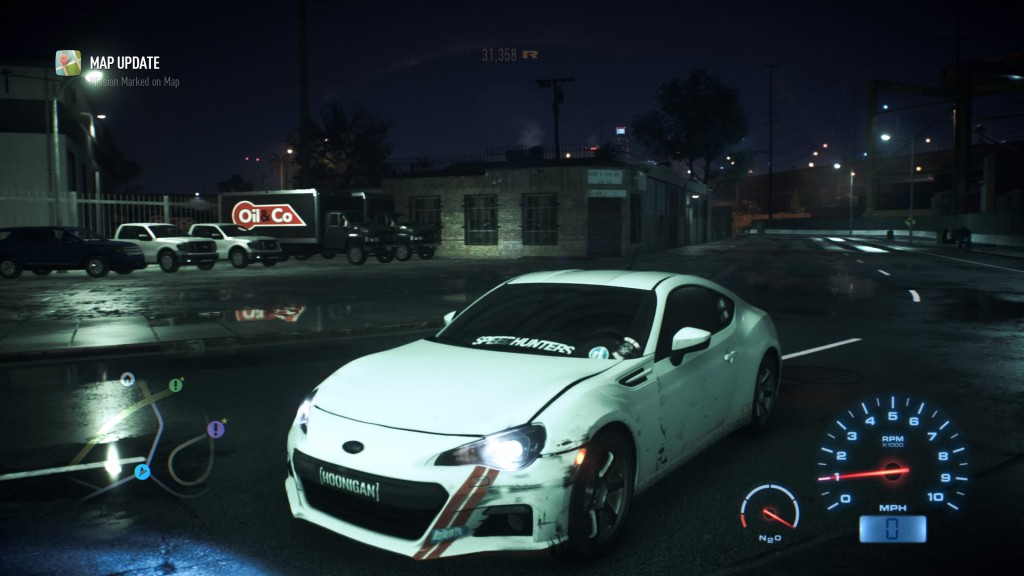 It is time to talk about the game's vehicle customization. It is fairly reminiscent of the former Underground series and there is a lot of emphasis on the aesthetics or looks of your vehicle. It kind of reminds you of the early Fast and Furious movies with just how much you can customize the visual aspects of it.
You can add decals, different paint styles, change the front and rear bumpers, the front and rear lights, and much more. The tuning or handling of the car can be changed to something to more of your liking say if you're heavy into drift, you can adjust the weight handling of each of the tires to be more drift prone or customize to focus more on speed. You choose what is best for you.
Another aspect I like of the vehicle customization is that once you gain access to more parts and accessories for your vehicle, you can upgrade them to get better performance, speed, or drifting to better compete in the later and tougher challenges.
Theoretically, you can pretty much keep the same vehicle you started with at the very beginning of the game and keep upgrading your parts to compete with the other more powerful vehicles that can be unlocked or faced later on down the road. There's just not always a need to upgrade to a newer vehicle once it is unlocked unlike some of the past Need For Speed games.
How do you get access to new parts, accessories, and vehicles and progress in the game? You earn rep points, money, and rank up. The more rep points you earn, the faster you will rank up and the more access you'll be able to get to different challenges located all over the map and the story's challenges later on. You'll earn rep points from drifts you do, to doing a clean race, driving into oncoming traffic without hitting any, getting high speeds and more. You'll get a lot of rep points from the challenges you successfully compete in by generally getting first place or 2nd depending on the type of challenge you do.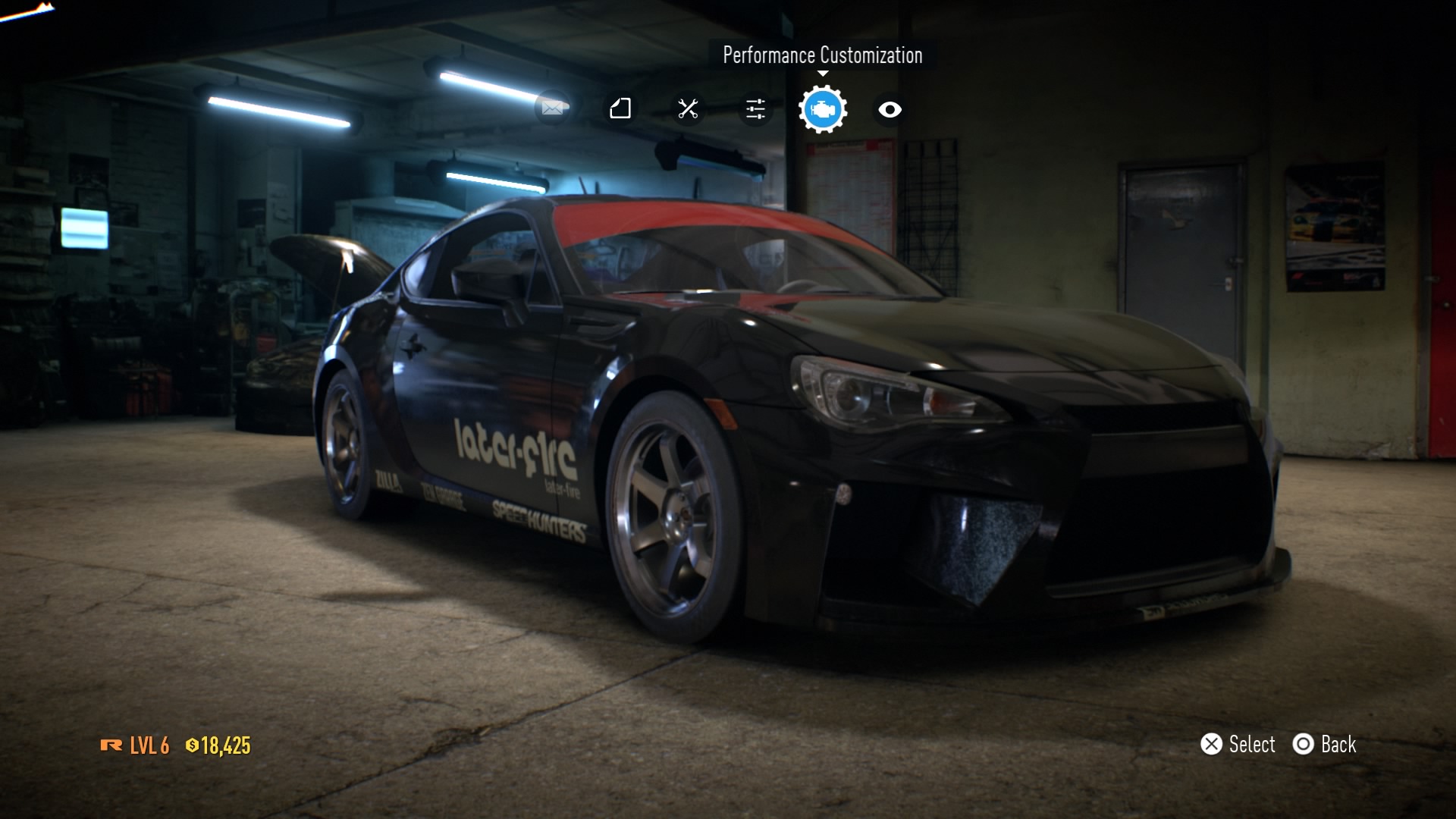 Now here's some things to keep in mind if you do choose to buy the game. It requires an internet connection to play the game as you have to connect to EA's servers. There's no way to play the game off line which is similar to Need For Speed Rivals from 2 years ago.
This could turn some people off to the game, because not only does it require an internet connection, but you also have to be a member of PlayStation Plus to play the game online in which you can do a monthly subscription a one time yearly fee of $60. I myself have a monthly subscription to PS Plus. It is cool sometimes to run into other online players in the game as they can challenge you sometime or just want to take a look at your customized vehicle and they can also participate in any other challenges you might be doing at the time.
There is rubber band AI in the game which I don't mind too much as it does keep the challenges close, but sometimes though you just really want to pull away from the competition with the hopes of them taking a long time to catch up.
I haven't really run into an unusual glitches or anything that would hamper gameplay on the PS4 version of Need For Speed. I only encountered one brief slowdown, but really that is it and thankfully I have not deal with suddenly being disconnected from EA's servers and having to load up the game again.
I am glad I bought the game as I do like the open world city, the car customization and yes even the characters from the cut scenes and who seem to always call you. I think the action is a bit more intense in Need For Speed Rivals plus not much traffic in the game and the fact that you can get through the game's major challenges within a day or two take away from it just a little bit, but the great car customization, the games different types of challenges and other online players will generally make you forget about most of those issues.
I suggest getting the game at Best Buy as I did because if you join their Gamer's Club, you'll 20% off of any new game. It is nice to have so you don't have to pay the full $60 for the game. Another great place is Amazon as it is going for about $20.00 there right now.
I also want to mention that with Black Friday and Cyber Monday just around the corner, you'll definitely want to come back here as there will more than likely be special deals and sales regarding this game so stay tuned if you want to wait until then to get the game. In the mean time, enjoy the video below of me doing one of the drift challenges in Need For Speed. I surprisingly come in first place even though I'm not the greatest at drifting. This will give you an idea of what to expect in the game.
Summary
Reviewer
Review Date
Reviewed Item
Need For Speed the 2015 Edition (PS4 version)
Author Rating