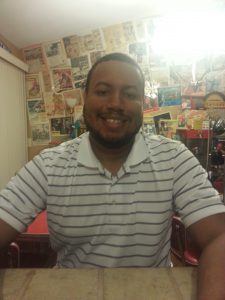 Greetings, I am Brian and I do like videogames and I've been playing them off and on for the last couple of decades.
I have played different genres of games throughout those years from first person shooters, a few rpgs, platformers, action, and racing and out of all of those my favorite would have to be racing, but more specifically the open world/free roaming racing games (along with other open world games as well).
Why do I like open world games the most? Mainly because it resembles what I am most passionate about in my life which is traveling and exploring. I love to drive and whenever I have the time, I like to take drives to places I don't go to very often or have never been to and explore maybe some things I find interesting about that specific place.
I love driving through cities though and it may seem kind of crazy, but I like driving on the major highways in them. I do love the outdoors as well and I love to hike and camp whenever I get the chance to. The free roaming/open world games are like an escapism for me especially since I can drive the cars I will probably never be able to afford and drive in real life and I get to explore whenever I want to in these games and never worry about money!
You may be wondering what some of my first experiences with free roaming games would be. I would definitely have to say that it would be back in the 1990s and for the original PlayStation game system. The game that got me into open world games the most would definitely have to be Driver, followed closely by the Grand Theft Auto series.
Over the years as each new generation of game systems would be released, there were always new and exciting open world games to try. Sequels to the Driver games, some of the later Burnout titles, the Need For Speed series, Tokyo Xtreme Racer, Crazy Taxi, True Crimes, Red Dead series, Elder Scrolls (Yes, I know there are no driving elements in that series, but I LOVE the open world aspect of it!), the continuing Grand Theft Auto series, Test Drive Unlimited, and more!
Now that a new generation of game systems has arrived and we are very early into the life of these new systems, I wanted to create a place for those that are interested in the new and upcoming racing and open world games that will inevitably come out for them in the coming years and believe me, with how powerful the game systems are now, there are some GREAT open world games planned for them, one of which I am VERY excited about since it is THE driving open world game I have been waiting for!
Now just because I like the open world games the most, it does not mean I am not interested in the many other types of games out there. I will probably mention some great games to play or that are worth your time as we wait for some of the new open world games to come out.
Why the PS4? The PS4 is the game console I was lucky enough to get my hands on a week after it had launched though I did pre-order it (The place I pre-ordered it from just didn't get their shipment in until a week later). I've also had much more experience with the PlayStation brand than I've had with the Xbox brand. I have had every iteration of the PlayStation console whereas I've only had one of the Xbox which is the Xbox 360.
Spec wise, the PS4 tends to be a little more powerful of the two new systems, but to be honest the differences are marginal and most people won't notice the differences. Now don't get me wrong, I'm not here to bash competing systems and if you have an Xbox One, that is awesome! I think it is a great system as well and a lot of the open world games coming out for the PS4 will be coming out for the Xbox One as well which is great because I don't think any owner of either of the systems should miss out on these great games.
If you ever have any questions or comments about any games or questions about the site in general, there will be a place for comments and I will certainly reply to you. Definitely visit the site regularly as I will be updating with any info of new and upcoming open world games.
Anyways, I hope that you are enjoying the PS4 (and other systems too!) and thanks for stopping by! 🙂
Enjoy!
Brian
Founder of PS4 Driving and Open World Games
email: brian@ps4driving.com