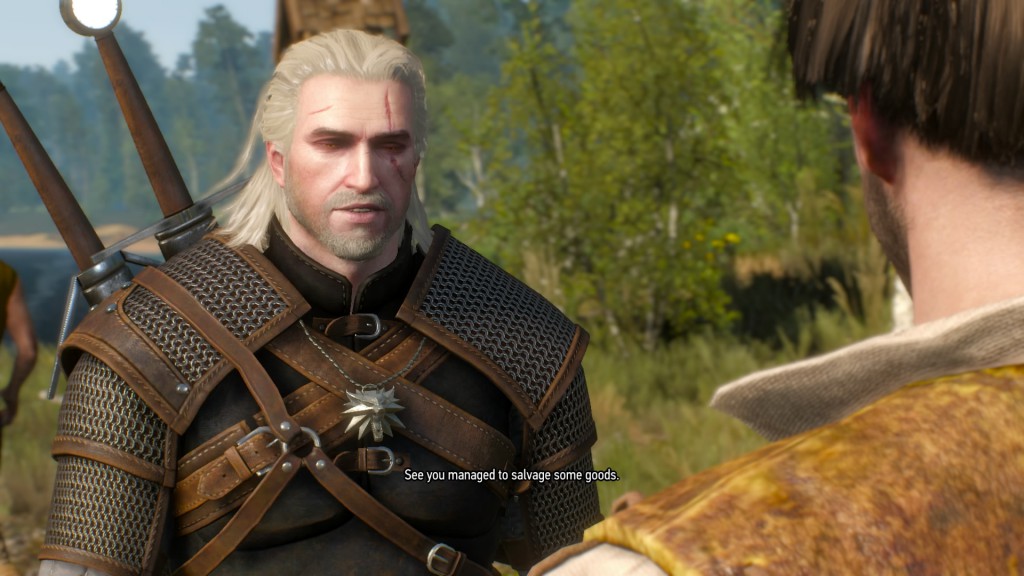 Witcher 3 Wild Hunt has been released in stores today and I went and picked up my copy. I've been excited about this game for quite awhile and after very favorable reviews of the game which I mentioned here, I had no doubt that I would like this game from the very get go. So without further ado, lets delve into my impressions of Witcher 3!
Something I do want to mention though is that you can buy the collector's edition or the standard edition. The collector's edition comes with quite a few cool collectibles, but it is pretty pricey so I decided to skip that and buy the regular edition of the game. What I found cool though is that even with the standard edition, it came with a couple of neat things that I did not expect. First off was a kind of letter from the game developers thanking you for spending your hard earned money buying this game and the number of people who worked on the last 2 years and why they believe you'll enjoy this game that they worked hard on developing.
The next thing it came with is a CD of the game's soundtrack! I was not expecting that at all, but very cool that they included it with the game. There are over 31 tracks, a lot of them short sometimes not lasting more than a minute and a half, but nevertheless, a cool thing to add for buying this game.
Another thing it came with is a map of the game world that you'll be traversing through and exploring. I must say that it is quite large and certainly seems like it is larger than the map from Elder Scrolls V: Skyrim. I'm certainly going to be spending a lot of time in this game trying to explore every nook and cranny that I can seeing if I can find hidden treasures, but more than likely will come across wild beasts that'll scare the crap out of me.
Now for the gameplay. After the game installs onto the hard drive of the PS4 (A hefty 34 gigs!) and an update for the game is downloaded and installed and you adjust some graphical settings, the game opens with some cinematic scenes explaining what is going on or at least what the main threat will be for the 3rd game in the series. I can definitely tell you that the game's main character, Geralt, will certainly have a major challenge whenever the main story has you encountering this threat.
One thing that I do have to say about this game is that I'm actually kind of glad you don't have to create a character like you do in the Elder Scroll series. Don't get me wrong, I'm not saying that I don't like creating your own character of the different races of that open world rpg series, but with so many choices and different abilities it can actually be a little more time consuming than I would like it to be. On the other hand though it gives you a reason to play through the game again using a different character and abilities to see how differently you would fare.
The Witcher 3 Wild Hunt has a nice tutorial at the beginning which is very helpful for those who are new to the series like I am and really don't know the mechanics or style of the main character's fighting abilities. There are some spells you can cast and it goes through some of the different attacks you use with the sword as well as defending yourself. What is nice about the tutorial is that it also deals with the character's past and some of the other major character's of the game and you see what drives Geralt. Since I really know nothing about the last 2 games, that was certainly very helpful.
Once you complete the tutorial, the main character wakes up from a dream (which was your tutorial) alongside his companion. He is very troubled by it because of an event that happens at the very end of that tutorial (I won't spoil it here for you!). You can choose to talk to your companion/friend about it or skip it and get going on the road so you can delve into the main story or the numerous side quests in the game. The graphics are decent, but I really like how the character models look. I haven't come across too many creatures yet to fight, but the few I did at the beginning of the game did not look bad either. I also like how the wind sways the trees in the game.
I've gotten just a little ways into the main story and exploring the first town you come across. There's A LOT of exploring, and other things to get into in this game before I'm ready to do a full review of the game. My initial impressions as you have read are pretty positive. There have been some little hiccups with the loading screen and some small stuttering here and there, but nothing that takes away from the gameplay. I will more than likely have a full review of The Witcher 3 in the next few weeks once I've had enough time to delve deep into the game. In the meantime, check out my broadcast of my first go round with game below!