Los Angeles is America's 2nd largest metropolis and also a very well known city worldwide. Hollywood and the movie industry is based out of there and lots of celebrities live out in the LA area. It is such a massive and sprawling city with lots to see and do and so it would make sense that the makers of Grand Theft Auto V would create a fictional city based on Los Angeles. Los Santos and Los Angeles look very similar to each other especially when taken into account the look and feel of each city. We'll take a closer look at that, mainly the popular sites and attractions.
The Griffith and Galileo Observatories
The Griffith Observatory was built on June 20, 1933 and has undergone renovations since that time. The land in which it was built upon was donated much earlier than that by a Colonel Griffith to the city of Los Angeles. It has some spectacular views of the city of Los Angeles especially its downtown skyline. There are also a number exhibits inside as well as a planetarium so there is plenty to see there if you should ever visit. The GTA V version in Los Santos looks nearly identical and has some wonderful views of the city as well.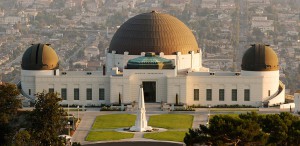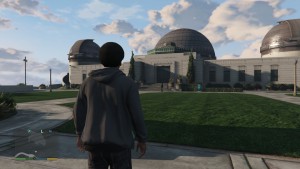 Hollywood Walk of Fame
I'm sure we've all wanted to see places where our favorite or most well known actors have walked or been to and we all generally know the place to see that is in Los Angeles. Specifically the Hollywood Walk of Fame where lots of actors over the years have a star with their hands imprinted in them on the sidewalk. Some examples of actors include Sylvester Stallone, Morgan Freeman, and many others. When visiting either city in real life or in the game, definitely take a look at this wonderful attraction. Now the GTA V version in Los Santos is actually called the Vinewood Walk of Fame. Little bit different name, but same exact purpose.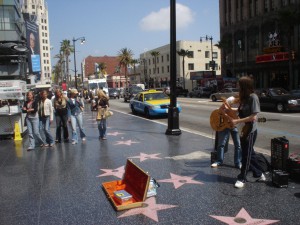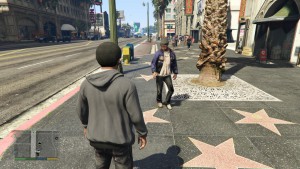 The Chinese Theatre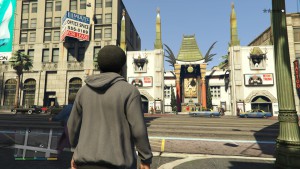 Another popular attraction that is also along the Hollywood Walk of Fame is the Chinese Theatre. It is a very popular tourist spot and is also a well known spot for celebrities to appear especially when one of their movies first premieres. Usually there is a red carpet, lots and lots of photographers, and lots of celebrities that tend to show up for these events. A lot of  times you'll never know who you might spot, celebrity wise, here. The theatre looks identical in the real Los Angeles and in the game. You might find some even crazier things happening at the Los Santos version.
The Hollywood and Vinewood Signs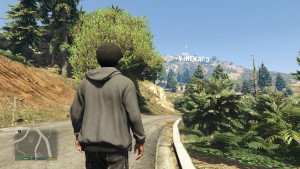 You know you're in Hollywood or Vinewood when you look up and see either sign on the large hill that is known for. It has been part of the Los Angeles landscape for a very long time and featured in numerous advertisements, television shows, and movies. Definitely worth taking pictures of and add to your picture collection of city icons that you'll remember for a long time to come.
Los Angeles and Los Santos City Hall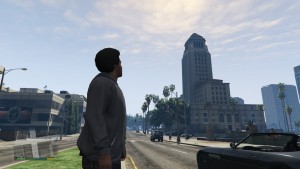 This is one of the most iconic buildings in the city and the entire world. For awhile, it was the tallest city hall in the US and the tallest building in Los Angeles (and I'm assuming Los Santos as well, lol). In Los Angeles, it wasn't until after 1964 that buildings could be constructed to be taller than the famous city hall building. As well all know now, Los Angeles has a pretty good sized downtown with many large skyscrapers that overshadow the famous landmark. The Los Santos version looks nearly identical as many other of its iconic landmarks do.
Los Angeles Freeways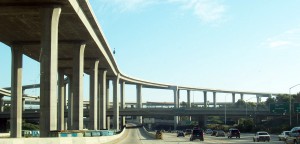 Of course, Los Angeles wouldn't be Los Angeles with the many and large freeways the city is known for. There are many freeways in the LA metro with lots of very large freeway interchanges they go to the different districts and suburbs of the city. Of course with the millions of people living in LA, they tend to get clogged quite often, but if you are able to drive on them doing the weekend, it can be a nice experience to drive on them. Los Santos is not to scale of the real Los Angeles, but it does have some of the more well known sections of LA's freeway system especially in and around the downtown area. Here's a video to give you an example.
More to come
There are many more landmarks and icons in around Los Angeles and Los Santos that I plan to show in a second part. Some examples are the Capital Records building, the LAX Airport, and the mountainous regions. I hope you enjoyed this and the similarities they all share. Definitely check back soon for the 2nd part!