Thanks to the internet, we can now buy things online instead of having to go out to the stores and fight with traffic, other people, and whatever else you may have to deal with. Don't get me wrong, I still at times buy games and stuff at stores, but now I like the convenience of ordering online and having it shipped directly to my house or better yet, download to my game system which is of course the PS4.
GameStop
GameStop is still one of the top places to buy a video game, consoles, accessories and more. It is very easy to order online at their website and sometimes they will have exclusive deals that are online only rather than in stores to make it more worthwhile to buy games online. I've really started recently doing this as they usually also have good deals on used games if you don't want to spend the money on buying a new copy.
Whenever you visit the website, just click on the Deals tab and it'll take you to that specific page showing you the latest deals available at GameStop online. Some examples of deals are on pre-owned consoles and games. If you have a gift card from GameStop, you can usually use it conjunction with the deal as well. I've bought an Xbox 360 from here in the past and they do have a good warranty protection.
Best Buy
Best Buy is another place where I sometimes buy games and have bought consoles from there in the past (A PS3 if you're wondering and a long time ago, a PS2). They usually have a good game selection along with accessories as well. You can also pre-order games from the electronics retailer which makes it very nice.
The one nice thing about Best Buy is you can really get all of your gaming needs in one place which includes other electronics such as high definition televisions, screen monitors (typically used for computers, but can be used for game consoles as well), sound system which can be a sound bar to a true home theatre system for surround sound, cables such as HDMI and optical, and anything else you may need for a great gaming experience.
The only downside to buying games at Best Buy's online store is that they are not downloadable, unlike GameStop. This is something that really doesn't bother me as I generally still prefer game discs over downloading onto the system's hard drive because I just don't want to take up space. That's not to say I don't ever download any games onto my PS4 because I actually have downloaded a couple of them which I will get into in the next section.
One other thing too is that if you want to buy a protection plan for whatever you buy at Best Buy, they have a 2 year plan which is definitely nice to have. A long time ago when I bought a PS2 from Best Buy (We are talking way back in 2001), I did have one little hiccup with their protection plan that prevented me from replacing my PS2 when it started having problems while it was still under the 2 year plan. It had to do with the fact that it was a special bundle they offered for a limited time and when my PS2 started having problems, I couldn't just get it replaced in the store because that bundle was no longer offered. Needless to say that left a sour taste in my mouth, but thankfully that was a long time ago and they've fixed that issue in their protection plan. Best Buy is definitely another good place to buy games.
PSN Store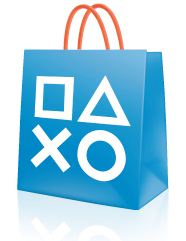 The PSN Store is part of the overall PlayStation Network and the video games you buy on there are generally only downloadable or can be streamed (mainly older games from what is called PlayStation Plus).  The new games cost the usual $60, but are downloaded to your system. Be warned however, if you have a slower internet connection it can take a few hours to download a game as the files sizes are generally in gigabytes. I have a pretty fast internet connection, fortunately, so at most, a game will take me no more than 30 minutes to download.
I have downloaded an online only game called Outlast which is a horror game and at the time, it was free. I've briefly mentioned the game on another page of the website and at some point I plan to finish the game and give a review of it.
As I just mentioned above, I was actually able to get the game Outlast for free during a special promotion in February of last year. That is one of the nice things about the PSN Store. Each month they will have a certain amount of games that are free to download and play or at the very least discounted for a certain amount of time. They usually have other great deals and promotions going on as well that you won't want to miss out on.
This is definitely another great alternative if you don't want to wait for having a new game shipped to your house and having to pay a shipping fee. Again, the only downside is if you have a slower internet connection it can take awhile to download a game.
In Conclusion..
As you can see, there are definitely some nice choices to buy games from. Each one of them that I have mentioned, I have bought games from, which do include me going into the store to buy them, buying them at their online store and having it shipped to my house, or simply downloading it to my PS4.
You'll definitely want to check on each of them regularly as they are always having new deals and promotions on games and consoles. As I've mentioned earlier, with Best Buy you can get more electronics than just games and can be your one stop shop for a gaming tv and video games.
Whatever your video game preference is, you won't go wrong with either one of them. Go out and buy your new games today!