Now that E3 is over and we got to see a glimpse of games coming out, it's time to talk about the latest news about some of these games, in particular, the open world games that are coming to the PS4.
Before I get to some of those games, I do want to talk a little bit more about the Gunrunner update on GTA 5. This update has been out for about a week or so and I'm still getting used to things. I haven't unlocked any of the special weapons and vehicles from it yet, but I've sure spent a lot of money on it.
The good news is that Rockstar has released some information about how to succeed in the illegal arms trade. One thing I mentioned in my first experience with the game is that you have to research and manufacture weapons as well as get supplies.
You do have the option of buying supplies, but I've so far opted to steal them instead because I've spent quite a bit of money on the Gunrunning update already. I've sold some of my stock in weapons once, but I'm waiting to get much higher value for my current stock of weapons before I sell them again.
According to blastingnews, Rockstar suggests that you fortify your bunkers in order for you to strengthen their core.
Now I've recently purchased upgrades for my bunker which includes upgrading equipment so that my research and manufacturing can increase faster and my supplies last longer. I've also added security personnel in case of attack.
I have not used the Mobile Operations Center yet, but once I get a better feel for things, upgraded weapons and vehicles, I will definitely get use of it later on. I want to start making profits very soon and with my stock increasing as well as the value of it, that will definitely be happening in the future.
The Crew 2
This game was announced by the developers awhile back, but was finally shown for the first time at E3. There were some surprises with the game when it was shown and a demo of it able to be played.
The sequel will no longer just be confined to street racing cars, but now utilizes a number of different craft such as water craft and even airplanes now. The same map will be used from the first game, but it has been altered to support watercraft and planes.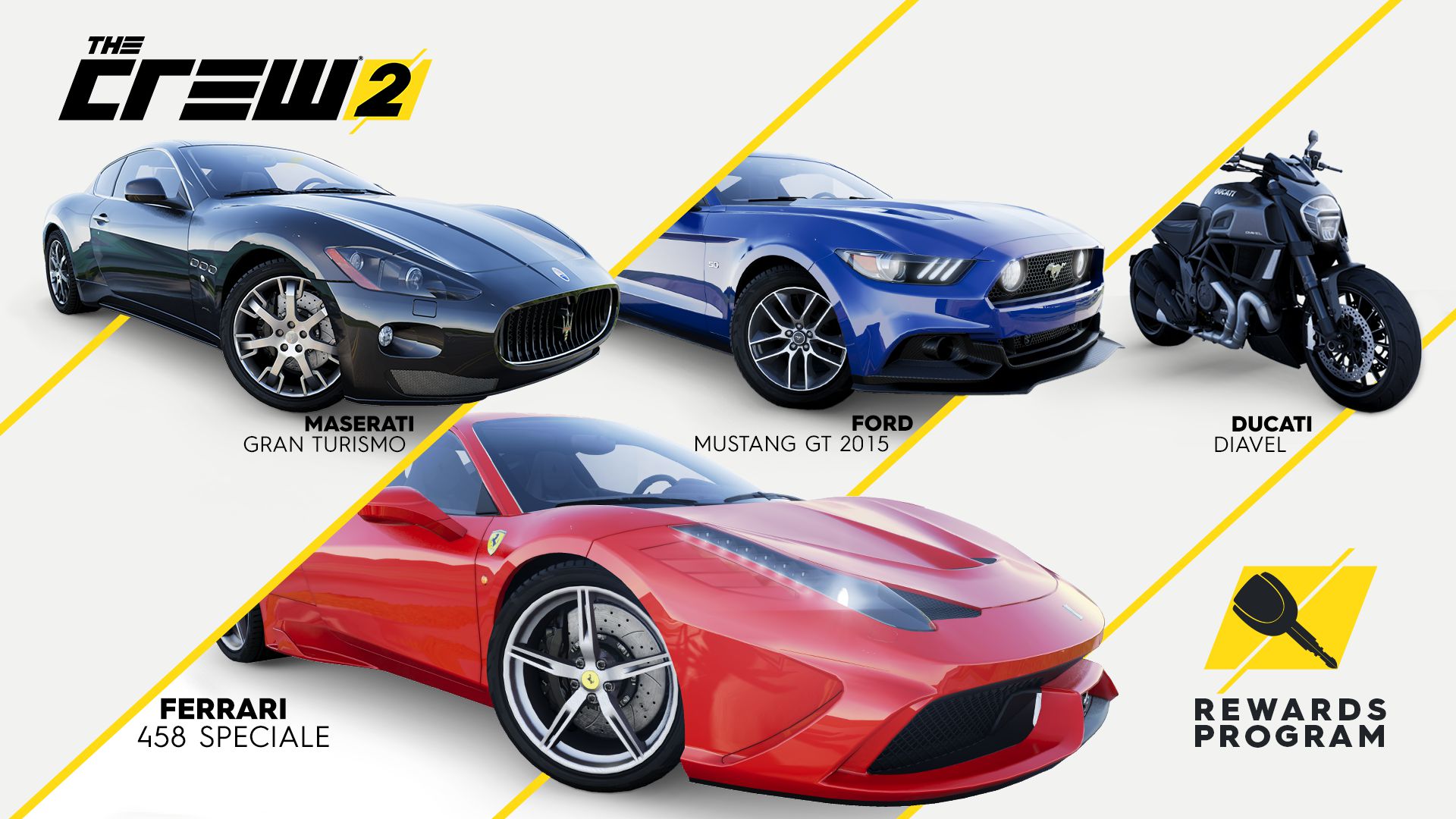 It appears that a lot of the cities have been altered too because if you choose to do street racing, they now feature massive jumps and rooftop driving as well.
There will also be a large emphasis on off-roading just as the The Crew's The Summit expansion showcased.
One of the most interesting features though is the ability to change to different vehicles on the fly. What this means is, if you are participating in what is known as the triathlon mode, you will have to use different kinds of vehicles to compete. You might start in a street race which then suddenly requires you to use a jet ski so then all you have to do is tap a button and you'll instantly switch to a jet ski.
PC Gamer  has a gif from the game demo that shows perfectly how this is done. You'll see someone flying a plane over the water, but then suddenly changes to a fast watercraft in an instant as that is next leg of the triathlon.
I'm very eager to try this for myself and cannot wait for The Crew 2 arrive. I don't necessarily mind that it's the same map as before, I just wish some new cities were added to it.
Far Cry 5
Next up is Far Cry 5. Now we all probably know what the game's main theme is by now which has already been talked about quite a bit as the series now moves to the US.
There was a recent interview at E3 by the game's lead writer where he talks about exploration in the game and just how dangerous the mountains can be in Montana which is the setting for the new game.
He basically states that the people in the game are very set in their ways which they believe is the right way and anybody who tries to change that will get a very rude awakening so to speak. You can check out that interview here.
I've never played the Far Cry series before, but I'm very interested in this new sequel coming so I will just have to pick up a copy of Far Cry 4 just so I can get used to the game's mechanics and what to expect from the game series.
Spider-Man
It has been quite sometime since there has been a major Spider-Man game on consoles, but the good news is that one is on the way and it will be a PS4 exclusive.
It will take place in a fictionalized version of New York City, but still look relatively similar to the real life NYC and the good thing about the game is that it is open world. The game so far is looking amazing graphically and judging by the demo at E3, will be an absolute blast to play.
It looks to be a dramatic departure from the last Spider-Man that was released before it as the amount of action in this one, plus the different ways you can use his abilities in the game will set this apart and could be a driver of additional PS4 sales because of its exclusiveness.
I can't really say much more about this game other than you'll have to check out the nearly 10 minute video of it below to get a full scope of what you can expect from this game once it's released sometime next year.
Well there you have it, some of the latest news on some of the open world games that are coming out to the PS4 soon and with Spider-Man being an exclusive one to the system, you definitely don't want to miss this one. Enjoy the Spider-Man video below.