We are now at Part 9 of my Exploring The Crew series and on this round, I will be finishing up with all the Florida landmarks (hopefully).
If you remember in Part 8, I had started getting to quite a few landmarks in Miami. I found landmarks in North Miami, North Beach, North Bay, Little Haiti, and The Venetian Islands just to name a few. What was really neat about some of those landmarks is that you found out that some of them were artificial islands that were dredged up in parts of the 20th Century.
I will finally be hitting the last major areas of Miami and one last part of nearby Florida before moving on to other parts of the South so without further ado, here are the rest of the landmarks in Miami.
South Beach
You probably remember a few years ago that a very well known basketball player was taking his talents to South Beach. Everyone knows that Lebron James made that statement. South Beach is a very well known and high end area of the city of Miami.
This particular area was one of the first to be developed and goes by the nickname of "SoBe" according to the little bit of information when you come to the landmark.
South Beach is also characterized by beautiful beaches as well as many high rise condominiums. A lot of people tend to flock here and it is not surprising to once in awhile see celebrities in this place. This is one of the things that makes Miami such a unique city because in a way it almost seems like a tropical South American city.
Miami Harbor
In real life, this area is called Port Miami and it ranks as the largest passenger port in the entire world. Many cruise ships dock here as well as take off so it is not unusual in any way to see thousands upon thousands of tourists at any given time come through this area.
You'll see all kinds of different size of cruise liners and this particular place is located in Biscayne Bay. Cruise ships aren't the the only thing you'll see here.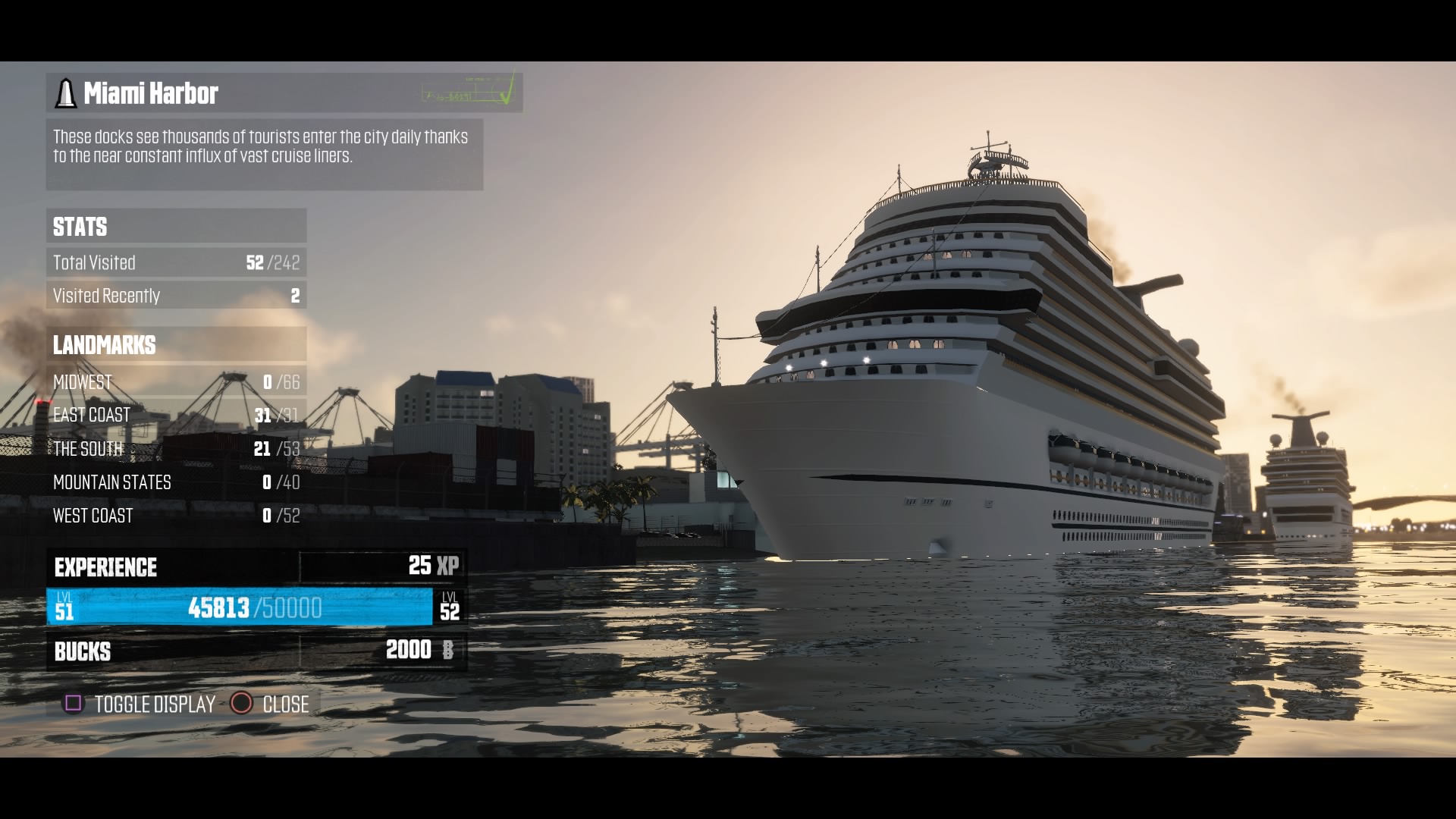 There is a very large cargo port as well that is among the largest in the United States. According to Wikipedia, this port and harbor has over 176,000 jobs and has an $18 billion dollar impact on the local economy.
With the importance of the port and harbor, it's no wonder it is nicknamed the "Cruise Capital of the World". Hopefully if I ever make it Miami one of these days, I can go on a cruise and get on one of the massive cruise ships and sail to some place like Jamaica or the Bahamas.
Freedom Tower
This is not the same tower that's in New York. Instead, this architectural gem resides in Miami. It is designated as a US National Historic Landmark as well as added to the US National Register of Historic Places, according to Wikipedia.
This tower now resides on the campus grounds of Miami Dade College. The high rise was originally known as the Miami News and Metropolis Building.
It was originally built in 1925 and was the main headquarters for the Miami News. Wikipedia says the Freedom Tower is an example of Mediterranean Revival styled structure with design elements borrowed from the Giralda in Seville, Spain.
In 1957, Miami News decided to leave the building and move to an entirely new location along the Miami River. In the 1960s, the US government used the building for documentation purposes for people arriving to the country, mainly of refugees from Cuba.
It is also mentioned by Wikipedia that the Freedom Tower is used today as a museum, cultural center, and an educational center.
Miami Airport
This airport that serves the city and a big chunk of southern Florida, is one of the largest airline hubs in the country.
Miami's international airport also serves the second largest amount of international travelers in the US, ranking only behind the JFK Airport in NYC. Many Latin American travelers use the airport for air travel here as it acts a gateway between both places.
Many domestic flights also come here for people wanting to go on cruises so they will use this airport as well as some other ones in the area to head on over to the Port of Miami to utilize one of the many cruise liners.
American Airlines has a very heavy presence at this airport, almost similar to the presence it has in Dallas, Texas.
Downtown Miami
Now here we have the meat and potatoes of the city of Miami. The central business district, which is also known as downtown, boasts one of the largest skylines in the United States as well as the world even and it is constantly evolving.
The game developers represent the skyline of Miami in the game very accurately and it is just a beauty and joy to drive past it on the elevated freeway or just drive around on the main streets admiring its many skyscrapers.
Even though the Miami area boasts quite a few high rises and skyscrapers, the downtown area boasts the largest collection of them or at least has the most high rises that are used as offices in the city.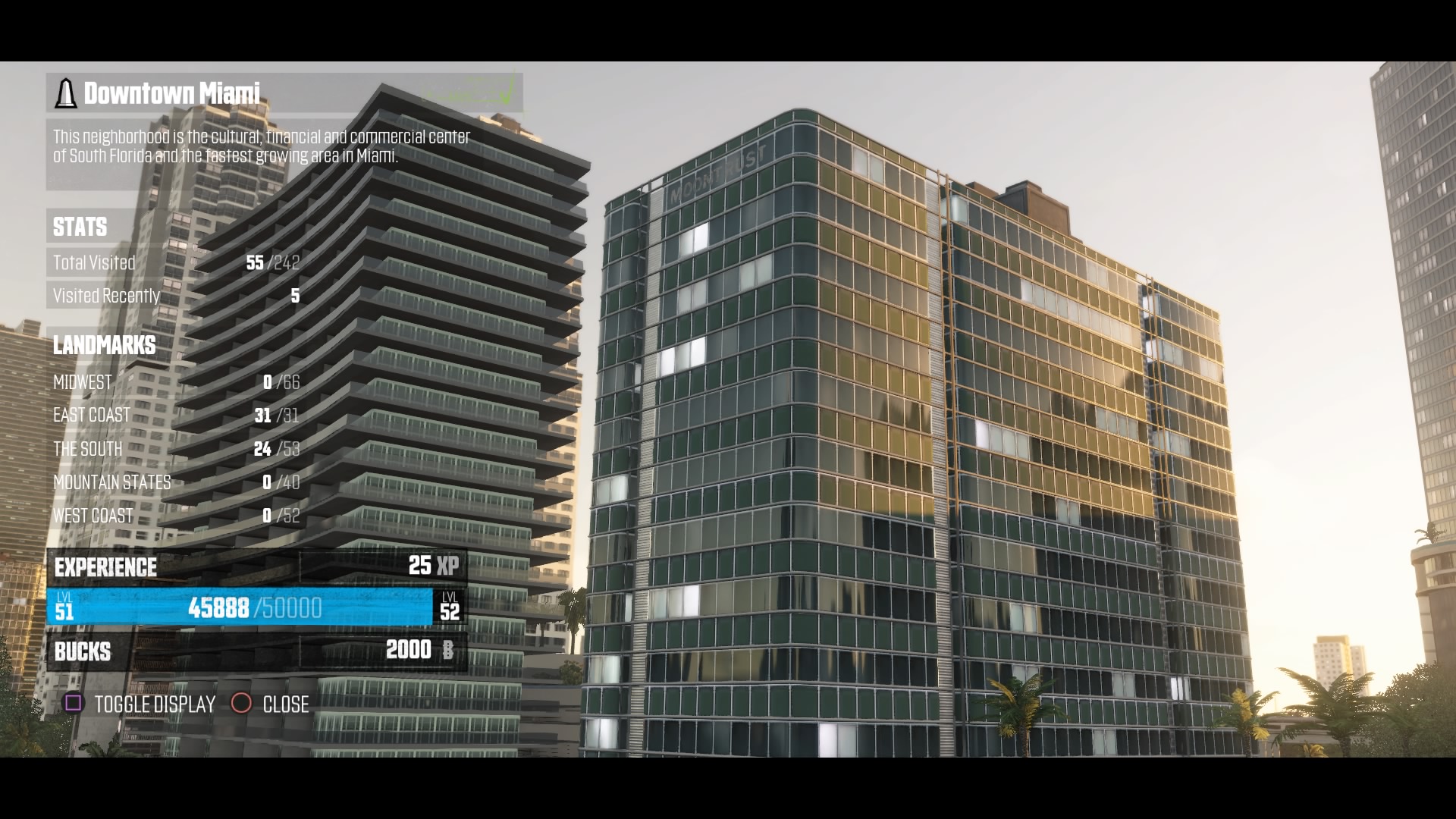 The three tallest skyscrapers in Miami currently are the Panorama Tower (which was finished this year), the Four Seasons Hotel Miami, and the Southeast Financial Center which is the tallest office building in Miami and the entire state of Florida.
Miami is going through a sort of skyscraper boom right now and there are many other towers planned especially some that will get into the 1,000 foot range. As you can see, downtown Miami's skyline is evolving. I wouldn't be surprised if one day it rivaled Chicago's skyline.
Tower Theater
According to Wikipedia, this is one of Miami's oldest cultural landmarks that opened in December of 1926. The theater had undergone extensive remodeling and re-opened its doors in 1931.
What makes this building unique is that it has an art deco style exterior with a 40 foot steel tower. Because of that, it instantly became a very recognizable landmark.
It was turned over to Miami Dade College in 2002 and now serves as a meeting place for the Miami International Film Festival. It's also a gathering place for cultural exhibitions and performances and promises to continue that well into the future.
Little Havana
This area of Miami quickly became home to many Cuban refugees and exiles and other immigrants that came from Central and South America.
According to the landmark information section in The Crew, Little Havana is known as the center of social and political activity in Miami.
There are many different kinds of cultural activities that take place here including what is known as the Three Kings Parade. It also has a walk of fame and many other landmarks.
Little Havana was put on a list known as National Treasure for Historic Preservation which includes 11 of the most endangered places. This happened back in 2015 according to Wikipedia.
Coral Gables
This is a city in the Miami area that lies southwest of Miami's downtown district. It is also home to the University of Miami.
The population of Coral Gables is close to 50,000 people. Wikipedia states that the city was developed in the 1920s during Florida's land boom. When you get to the landmark in the game, the little description also states this. It also states that it is one of the first planned communities.
There's not too much more to say about Coral Gables. It is pedestrian friendly and like many other areas around Miami, it does have a number of high rises and centers of business.
The University of Miami is the area's largest employer followed by a major hospital. It does have a lot of unique architecture and a good mixture of people.
Coconut Grove
Coconut Grove is the oldest and continuously inhabited neighborhood in the city of Miami. It was annexed by the city of Miami in 1925. This particular area is known as one of the greenest areas of the entire metro area.
It does have a small skyline with a certain number of high rises that comprise this neighborhood's skyline. There are many historic places here and there are two open air malls with which to shop at.
The population of the area is around 20,000 people. Some of the city's oldest parks reside in Coconut Grove and are an oasis to escape to sometimes. It is worth visiting if you're ever in the Miami area.
Florida Keys
This island chain resides about 15 miles south of Miami and is the southernmost part of the continental United States. The Florida Keys along with what is known as the Florida Straits, act as a separation point between the Gulf of Mexico and the Atlantic Ocean.
According to Wikipedia, the population of these islands is close to 80,000. It is one of the most beautiful excursions in the US and it is easy to see why.
You can get to it by highway which uses a series of bridges to connect the islands to each other. The highway is known as US 1.
When you reach the landmark in The Crew, the description of it basically says that the Florida Keys are portions of an old coral reef. Not far from the Florida Keys is what is known as the Florida Reef.
Everglades
This is the (should be) final landmark for me to visit in Florida. If you don't already know, the Everglades is a natural area of tropical wetlands and swamp in the state of Florida. It is also has what is known as "Sawgrass prairie" which is tall grass in the marshes and swamps of the area.
You'll find all kinds of wildlife here ranging from alligators, many kinds of snakes, fish, and more. Some animal species however are not native to the area and the biggest threat to a lot of other animals there has been the Burmese python.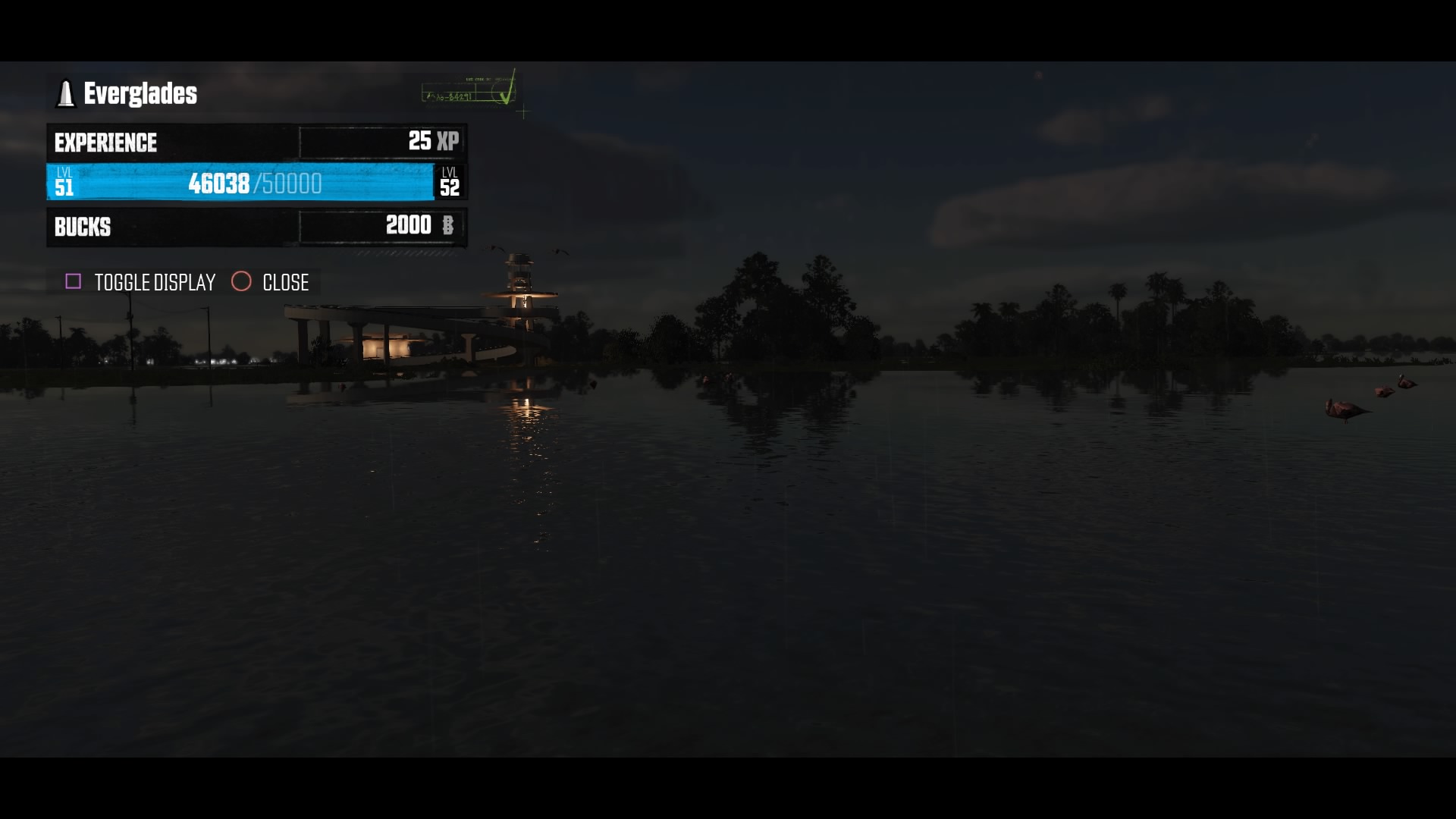 It is believed that these were at one time pets, but they have either gotten too big to where the owners had to get rid of them or they managed to escape to the Everglades. The environment there is something that they're used to and so they have managed to reproduce in great numbers.
Park officials try to remove them when they can and laws have been passed to where these particular type of pythons are banned.
More to come from the South
This should fully wrap out my time getting to all the landmarks in Florida. There may be some areas I haven't explored yet so there is a chance that I could have missed a landmark or 2, but I can always come back to that area and check.
I'll be moving on to other parts of the region now where I'll focus more of my attention on Louisiana. There are a few landmarks to check out in New Orleans as well as other parts nearby and then it will be on to the Texas area.
If you like the series so far, then you'll definitely want to check back for the next part in the series. As always, feel free to post comments.