Welcome to part 8 of my Exploring The Crew series! In Part 7, I had touched just a small part of Louisiana and hit some parts of Florida. 
I visited landmarks that show cased the older industrial part of Louisiana, to the west coast of Florida that included places such as Tampa, hit the Daytona area which is known for NASCAR, and then went back to the Cape Canaveral area that showed a short cinematic of a space shuttle launch.
Part 8 will stick strictly to Florida this time as I hit the Miami area that is just full of landmarks showcasing the different parts of this tropical city.
North Miami
This is the first stop in the Miami area. North Miami is a suburban like city that is close to 10 miles north of the main city of Miami. It has close to 60,000 people and is a rapidly growing area. The city is on an area known as Biscayne Bay and has a number of universities there.
There's not really much more to say about this particular area, but it is a nice place to visit and definitely represents Florida and the Miami area.
You'll see a lot of yachts and boats as well as very nice, picturesque homes. North Miami is a place you'll want to be if you love to sail and even do some fishing.
When you get to the landmark in the game, it does a good job of representing the area. That's one thing I do find very impressive about the game as I like how the developer has gone to great lengths to get the right feel for different sections of the US in the game.
Now granted there are definitely some repeats such as towns that look the same and in some cases skyscrapers as well, but for the most part the cities and regions do look authentic.
North Beach
There's not a whole lot to say about North Beach as it pretty much is the very northern most section of the main city of Miami.
This particular section is home to around 45,000 people and is a very affluent neighborhood with nearly half of the residents speaking at least 2 or more languages. North Beach is also home to a lot of high rises and condos as is other parts of Miami as well.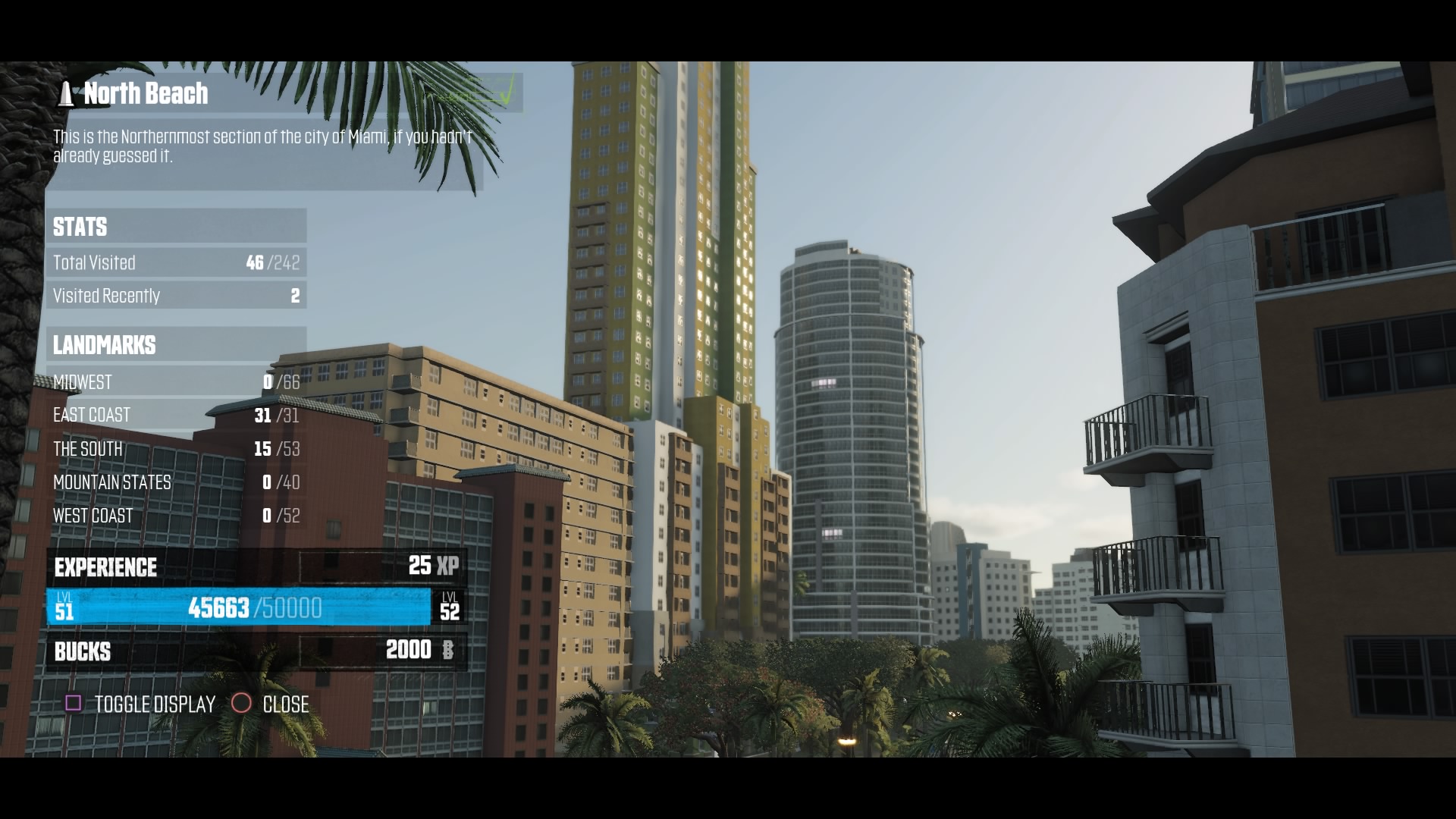 When you come to the landmark in this particular area, the game will make mention that it is the northernmost part of the city which of course you already know.
I like that when you drive through here in The Crew, you see quite a bit of tall, residential skyscrapers and lots of palm trees along the streets and roads that give it that authentic feel.
North Bay
This place is not very big and is really comprised of a couple of small islands. The population of North Bay lies around 7,000 and has mostly homes and a few high rises.
North Bay at one time was completely underwater and was part of Biscayne Bay. Near the middle part of the last century, there was dredging that took place which brought about this particular area that is here today.
The land area of North Bay is not very big at all coming in at around slightly less than 1 square mile. According to Wikipedia, this area used to be home to a lot of popular nightclubs and restaurants that would attract celebrities such as Frank Sanatra and Judy Garland.
The current century has brought the addition high rise condominiums so it is seeing some additional growth today. Even though it is surrounded by water, it seems relatively safe thus far from surges that might occur from hurricanes.
Mid Beach
Mid Beach is an area of Miami Beach that contains neighborhoods such as Nautilus, Oceanfront, Bayshore, and has a main thoroughfare known as 41st street.
Wikipedia also lists same famous buildings in this area such as Fountainebleau Hotel and the Ocean Spray Hotel.
The population of this part of the Miami area is nearly 15,000 which is up from nearly 10,000 at the beginning of this decade.
When you come to the landmark of Mid Beach in the game, it says the area contains many historical buildings and of course is situated between North Beach and South Beach. This of course brings us to the next landmark in the Miami area which is…
Little Haiti
Sorry, South Beach isn't the next one the list, but it will be coming soon. This particular area is home to many immigrants from the country of Haiti, plus many others from the different Caribbean Islands.
The Crew has Little Haiti being established in the 1850s as a farming community. It also says that it has the nickname of Lemon City because of the many lemon groves in and around this neighborhood.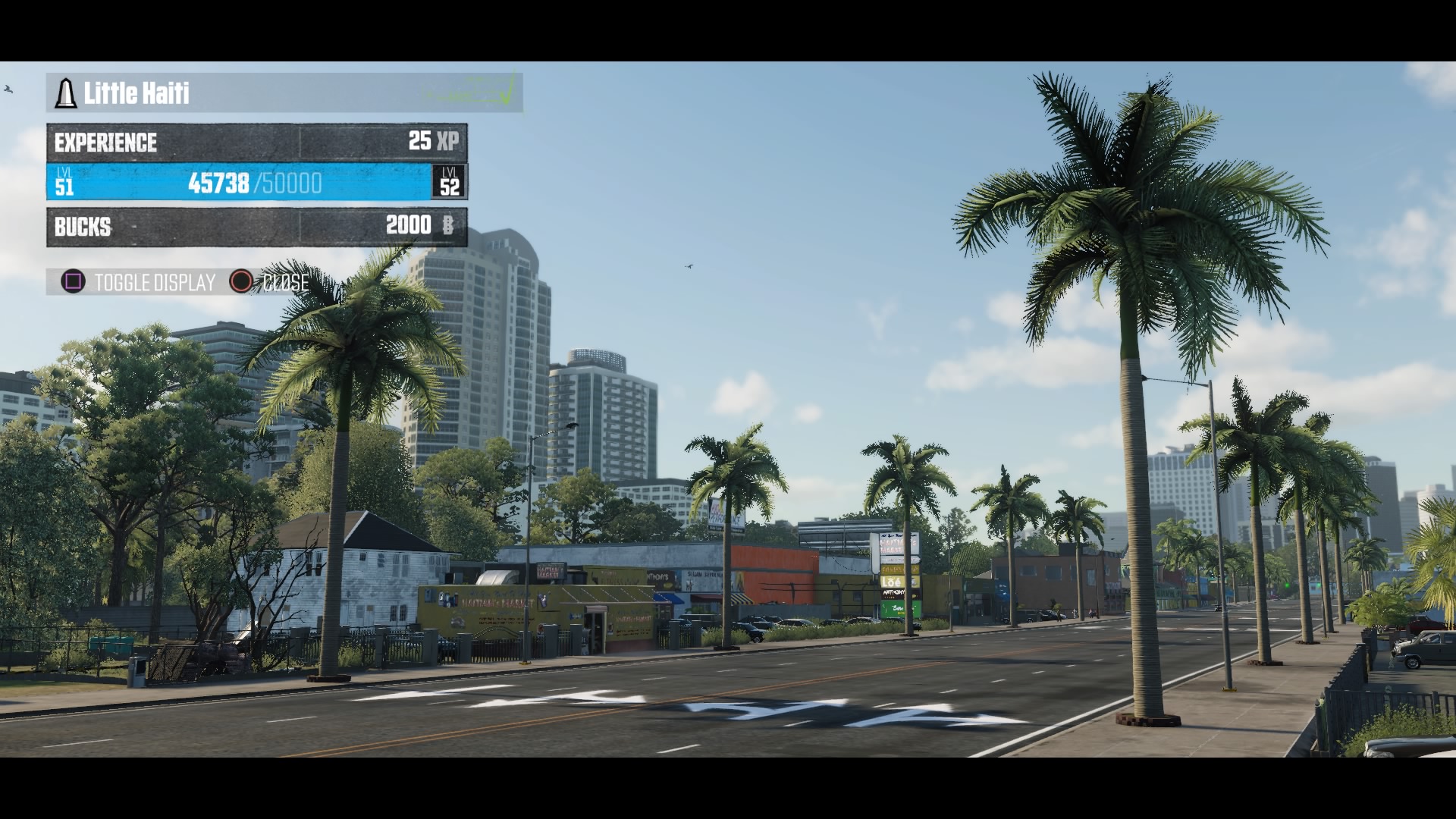 Little Haiti is known for its food as well as a very vibrant night life and many celebrations. You'll find quite a few art galleries, shops of voodoo, and many different murals.
Venetian Islands
These are artificial islands in Biscayne Bay that stretches from Miami to Miami Beach. There are a few causeways that were created to get to these islands after they were dredged up in similar fashion to North Bay.
There's just not much to say about this area as it doesn't have an extremely high population, but it does have a nice collection of very elegant homes as well as some high rise condos to go with them (which part of Miami doesn't have high rises these days).
It is a very beautiful area in The Crew and I love that you can see the high rises of Miami in the distance. I will have to say that this should make for a very interesting place when the sequel comes out considering they're redoing the cities to utilize the different kinds of vehicles you'll be using which includes watercraft.
This is where I have currently stopped with the landmarks and will resume here pretty soon. There are still more landmarks to visit in Miami so we're not done with it just yet. Stay tuned though as once I finish with Miami (and the Florida Keys), I'll head on over to Louisiana and hit the landmarks in New Orleans and in the surrounding area which includes swamps.