Welcome back for yet another addition of my Exploring The Crew Series. Last time I had talked about moving on to another region of the map which is the South.
I went and visited landmarks in places such as Nashville and the Palm Coast which is in the upper northeastern part of Florida. You can read more about that here if you haven't already.
I'm continuing on with my exploration of the southern region, going on to other landmarks in Florida and also touching Louisiana. Some of these places will be familiar as I've taklked about them in the past or at least driven by them.
Old Louisiana
This part of Louisiana seems to represent the coal and power plants or factories that used to be a big part of Louisiana's  economy many years ago.
Today though it seems that most of Louisiana, especially New Orleans, relies more on tourism than anything else. Back then though, it was more of an industrial economy so I guess the developers wanted to show that more than anything else.
In the game, this area won't really look significant as it seems very similar to some other landmarks in The Crew. You'll just see a bunch of older factories and plants out in the swamps of Louisiana.
I will have to say though it does remind me of traveling through some parts of Louisiana on the way to New Orleans and seeing a lot of the industrial places like that with some still in operation.
Space Shuttle Launch
I end up leaving Louisiana for now and head back into Florida. This time though I'm actually going back to near Cape Canaveral for another landmark that has to do with a space shuttle.
In order for me to get to this particular landmark, I actually have to go off-road quite a bit and get near water.
This landmark though represents where people used to gather in order to watch the launching of the space shuttles in the past. What is really neat though is that when you toggle the display of this particular landmark, you're treated to a cool cinematic of a countdown and launching of a space shuttle.
I thought that was a really cool touch and is basically a nice shout out to NASA's space shuttle program.
If you stick around to the end, I've got a short video of the launch in the game. It kind of makes me wish they never retired the shuttles.
Orange Grove
Now here is a landmark that I'm really glad is in the game and is something that Florida is very well known for and it's actually one of two states known for this.
I'm sure most of you know what it is, but if not, the answer is oranges as Florida has the perfect climate for them to grow and thrive in.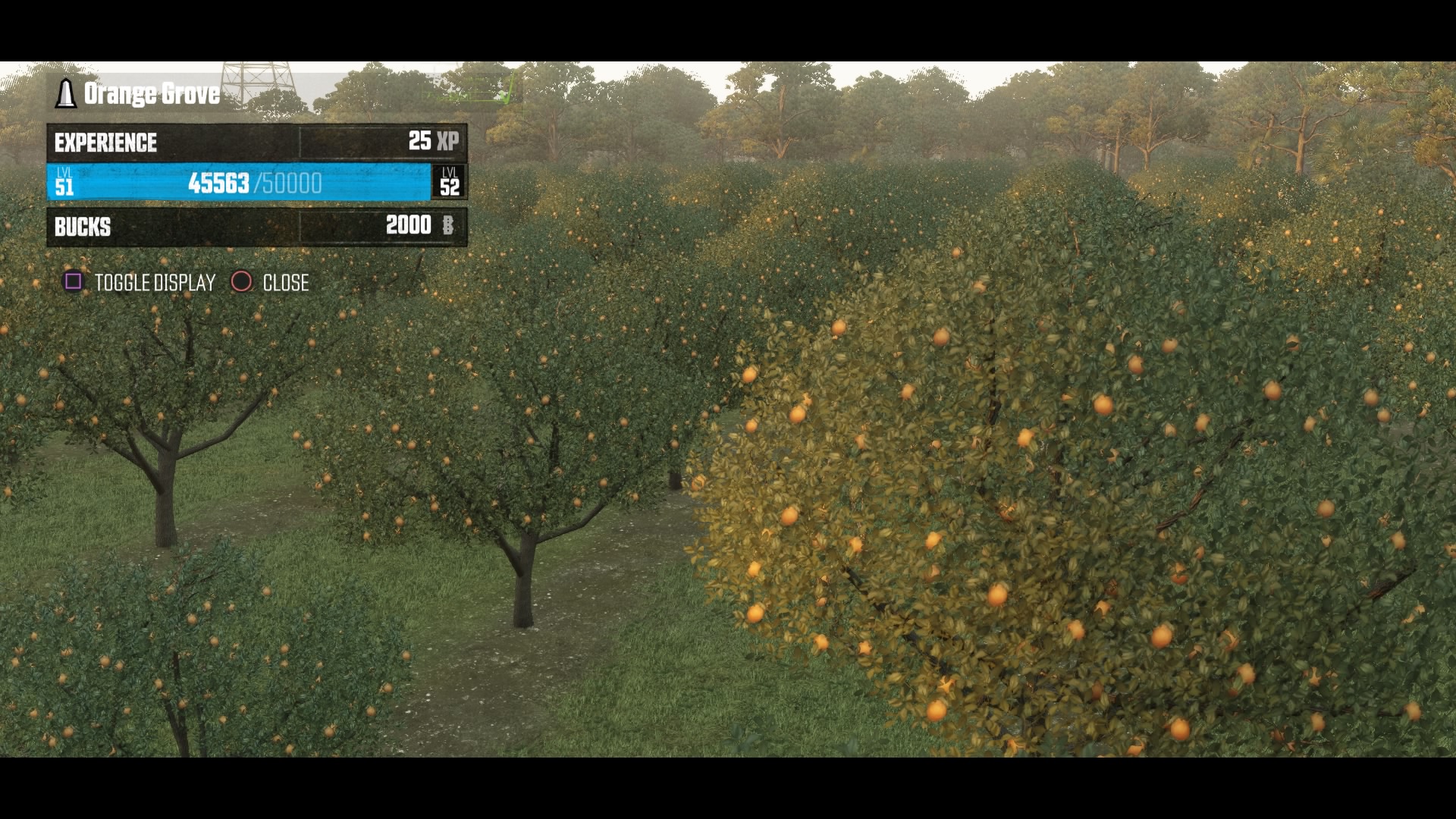 A person I used to work with who is originally from Florida told me just how common it is to see oranges in that state. She told me there was an area behind her house where oranges actually grew.
The game shows what pretty much is an orange farm that has lots and lots of groves of oranges. A lot of the oranges and orange juice come from here so you owe a lot to Florida if you make consumption of this fruit your daily routine.
The other state though known for oranges is California as parts of that state have just the right climate and atmosphere for oranges to thrive as well. Now I'm not exactly sure which of the two states produces more oranges, but I bet they are pretty close to each other.
West Florida Coast
This is Florida's other coast line as I'm pretty sure you're aware. The coast line here is along The Gulf of Mexico.
The well known city along this particular coast line of the state of Florida is Tampa which is in the game and I have talked about before.
This area has some nice beaches along this coastline as it does on its eastern coastline along the Atlantic Ocean. You'll also find the state's capital along the Gulf of Mexico although it resides in the panhandle of the state.
This area can see hurricanes too as they can enter the Gulf of Mexico, but they tend to go more of a westerly route and won't hit the western coastline as much as the eastern part of the state.
Tampa
Last, but not least is the city of Tampa. This was part of my hidden cities series city that started with Nashville.
Again though, Tampa was not one of the main or official cities listed as being in the game so it is nice surprise coming upon it in The Crew while exploring the map.
Tampa is not very big in the game and certainly not anywhere close to resembling the actual city in real life, but it does have a skyline and there is a bridge leading to it that is very similar to an actual bridge as well.
It does kind of make me wonder if these hidden or unknown cities will make a return in the sequel. I'm actually glad that The Crew 2 will still be in the US, but it will be interesting to see how much of the map has been redone.
I think it would be nice to include other cities for a change even if they're not on the official roster. I'd like to see Houston, Kansas City, Atlanta, Denver, Philadelphia, and Pittsburgh just to name a few.
More of Florida Coming Up
There are still quite a few more landmarks to get to in Florida with a big chunk in Miami so I'll be spending a good chunk of time there getting to them. 
Once I'm done with Florida, I'll move on to Louisiana as there are a good amount there too and then on over to Dallas and the surrounding areas that should hopefully wrap up the southern region of The Crew.
As I mentioned earlier, here is the video below of the space shuttle in Florida taking off. It's a short video, no more than 30 seconds, but still actually kind of cool to see and makes it a great thing that the developers included this in the game.