It's time for another edition of my Exploring The Crew series. If you remember last time, I had finished up the East Coast section of the map with the remaining landmarks including one I had actually missed which was in Long Island, New York.
Now that the East Coast is done I'm ready to move on to the South to see what landmarks await me there as I slowly, but surely explore the very large map in The Crew. So without further ado, it is time to explore The South.
Some parts you'll have already seen before as I talked about cities and other places in some of my past articles about The Crew especially when it comes to city comparisons.
State Borders Bridge
This bridge/tunnel combo pretty much borders the South and the rest of the East Coast. I really believe that this is meant to be the Chesapeake Bay Bridge Tunnel system which is on the far eastern shore of Virginia.
It really isn't very far from the Washington DC and Baltimore area and from what I've seen of videos of the actual bridge and tunnels of this route, it kind of reminds me of the Lake Pontchartrain causeway just north of New Orleans.
It crosses over a very long body of water with I believe two tunnels in the middle of it all. Overall, most of it is a trussell bridge. I've never been on it before or really been to that area, but hopefully one of these days if I'm able to go on a trip to Virginia, I'd like to go on that bridge and down in those tunnels.
For the purposes of The Crew, the bridge-tunnel combo isn't really that long and I think it is there just to mimic the real thing and just as a landmark and place to explore.
Palm Coast
This is an area along the upper east coast of Florida and is a small city in real life. This area is part of the Daytona Beach metro area and it is a rapidly growing one at that.
Now the game says that this area is less likely to see hurricanes than other parts of the state, but if you check the history of the actual area, you'll see that there have been at least over 30 hurricanes and tropical storms that have affected the area.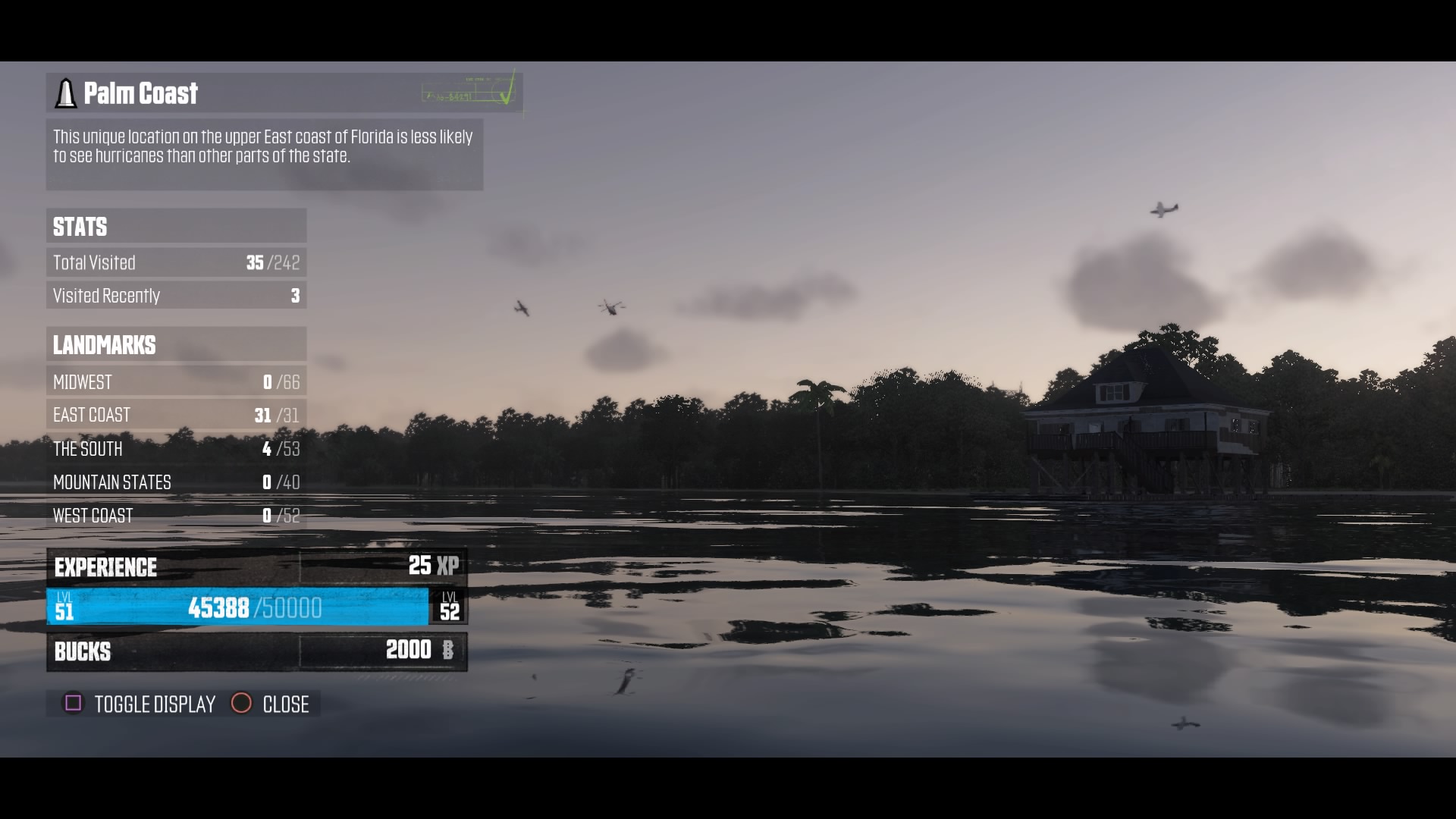 I hate to say it, but anywhere on the eastern side of Florida is very vulnerable to see hurricanes no matter if you're on the upper part of it or on the lower part towards Miami or even the Florida Keys.
The game's version of Palm Coast doesn't show a lot here, just some water ways and swampy areas. Still though, I'm glad I got to visit this area in the game as I hadn't seen much of it before.
Nashville
I've talked about this city before in a past article where I talked about some of the hidden major cities in the game. While there 12 major cities officially listed as being in the game, there were a few others put in the that the developers didn't mention.
I think they did this intentionally to encourage exploration in the game which I think is actually a good thing. Even though Nashville is in The Crew, don't expect to really resemble its really life counterpart unlike some of the main major cities in the game.
Nashville is there as one of the landmarks, but that's about all. The city of Nashville is a major city in real life, but for the purposes of the game it is only just a few blocks large. It does have a skyline in the game, but it resembles some of the other skyscrapers in some of the cities of The Crew.
Nashville is a major center for entertainment especially when it comes to the music scene as most people know it is one of the major homes of country music and its biggest musicians. The food is well known here as well as its nightlife and it is definitely a place I would like to visit in the future.
It's a shame though that the game developers did not include Tennessee's other large city which is known for music as well, and that is Memphis. Not to worry though, there is another landmark yet to be found in this region of Tennessee.
Chattanooga
This city is not as big as Tennessee's 2 largest cities, but it is still a popular place to visit. It is located in the southeastern part of the state and nearly has 200,000 people in its city limits.
The game's description of this landmark has it listed as the Scenic City which is true as there are many things to do outdoors. There are many forested hills and mountainous areas surrounding the city, a large river going through it, what is known as the 13 mile Tennessee River Walk, numerous caverns in the surrounding areas, as well as many parks.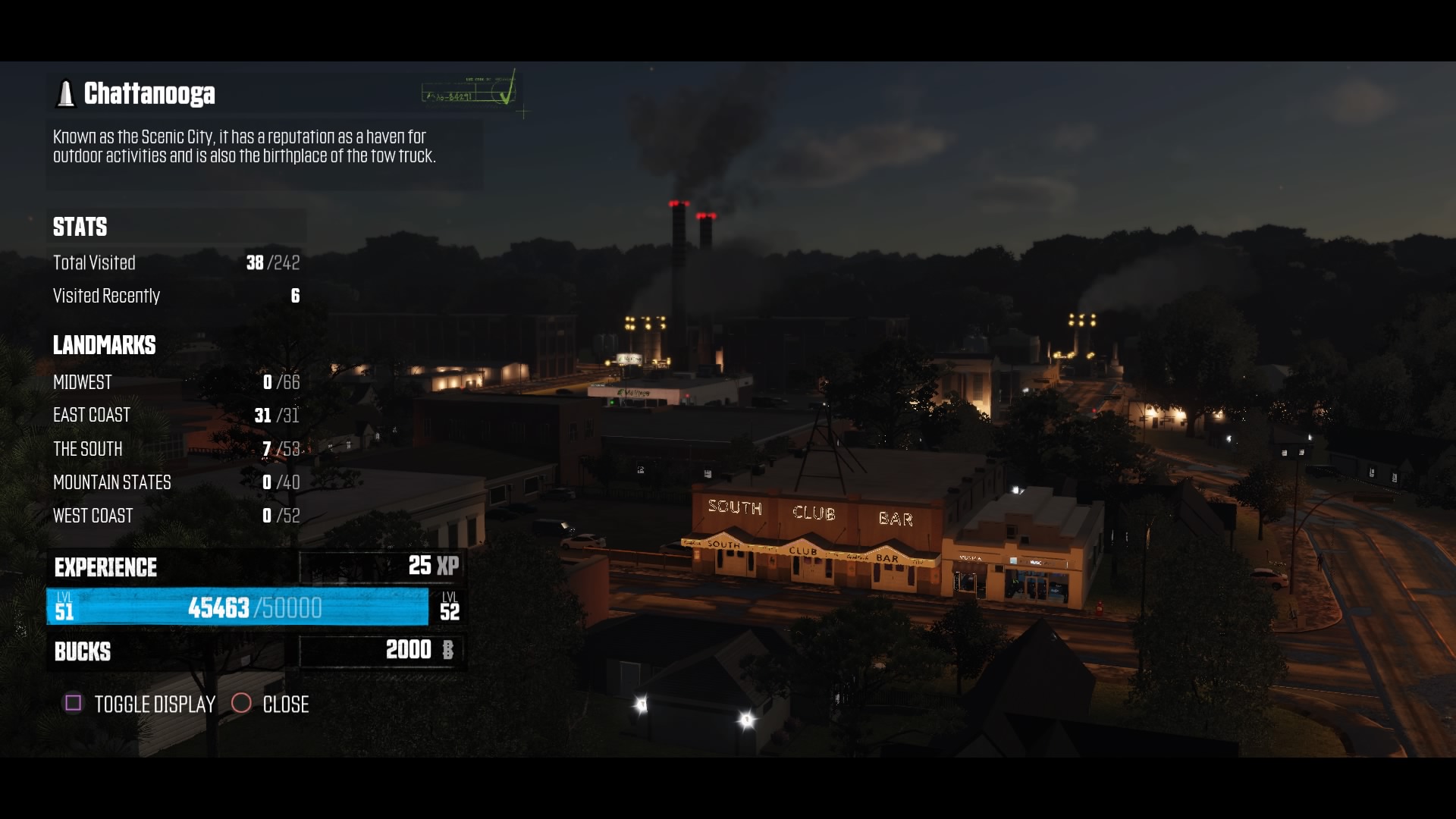 There are many great museums to see in Chattanooga as well as a zoo, an aquarium, and many more trails in and around the city.
I've never been to this part of Tennessee yet, but I've known people to take trips to this particular area and they have really loved it. I'm glad that the developers included Chattanooga as an exploration landmark in the game.
Space Industries
This is an interesting place to have as a landmark in The Crew. This area is just basically a collection of plants and factories that supposedly contribute to the space industry of the US.
The game's description is that this area contributes fuel and other special chemicals that are vital to the local and national space industry. It would not surprise if some other components were manufactured here such as parts that are needed for exploring rovers such as the one that is currently on Mars.
If I remember correctly, this particular area is located in part of Florida in the game which then should be of no surprise there since NASA launches rockets from Cape Canaveral and used to launch the now retired space shuttles from there.
Not much else to really say about this area, but nevertheless it was interesting that it was decided to make a place like this a landmark to visit in the game.
Daytona
I'm not surprised at all that this is a landmark to be visited in the game. Daytona, or rather, Daytona Beach, Florida is well known for its International Speedway and it's also the home of NASCAR.
This city has many different events in which people from out of town come to visit. One of its biggest though has to do with what is known as the Daytona 500 which marks the beginning of NASCAR season.
Daytona Beach has a large area of beaches that attract large numbers of people as well. Its beaches are known to have what's called hard packed sand which allows motored vehicles to be driven on it. Many races were done on the beaches of Daytona for years.
More to Come from the South
I've just started hitting the landmarks of the southern region of The Crew so there will definitely be more to come.
I will definitely hit more areas in Florida as that area is just full of places to visit and explore. There are also places in Louisiana I will hit as well and some of them definitely include New Orleans.
If you're intrigued by my exploration of The Crew and my quest to find and explore all the landmarks in the game and would like to try this yourself, Amazon has the Ultimate Edition of The Crew going for $29.92 right now so it is an excellent time to buy a copy of this game.
I will certainly have more to come from The Crew so you'll always want to check back for my latest updates from this game.