There is some major news for open world racing fans which includes myself. The current generation of systems have been out for a while with their 4K counterparts being the latest additions and a lot of game companies have been re-releasing games to support the higher resolutions and better graphics.
Well now EA is jumping on board this train and releasing Burnout Paradise which is coming to the PS4 as well as other systems and later on a PC version.
When is it coming
The good news about Burnout Paradise Remastered is that we don't have very long to wait. The release date is March 16th. I must say that EA did a very good job of keeping this under wraps because I certainly was not expecting this game to come out for the newer systems.
What really surprised me though about the announcement is just how close the release date for the game is. Usually when a game is announced they tend to have a tentative release date like say around the end of the year or sometimes early next year.
Criterion, which is the original developer behind the Burnout series, are the ones releasing this updated version for EA. They used to be separate from them, but EA bought them out I think nearly 5 years ago. They've worked on their other racing series which is Need For Speed.
What to Expect in this Remaster
So what can we expect from this remastered version of Burnout? Well for one thing, MUCH improved graphics. EA has said that we can expect 4K as well as 60 frames per second, which is usually a feat not easy to come by for racing games especially if they are in 4K.
We can also expect all the add-ons and expansions at no extra cost so we will get all the car packs as well as the expansion known as Big Surf Island. I unfortunately never got to try out that addition to the game which was a big, new, explorable area at the time.
I originally had Burnout Paradise for the Xbox 360 and I had an absolute blast playing that game. It was so much fun playing online with 8 other people because of the challenges.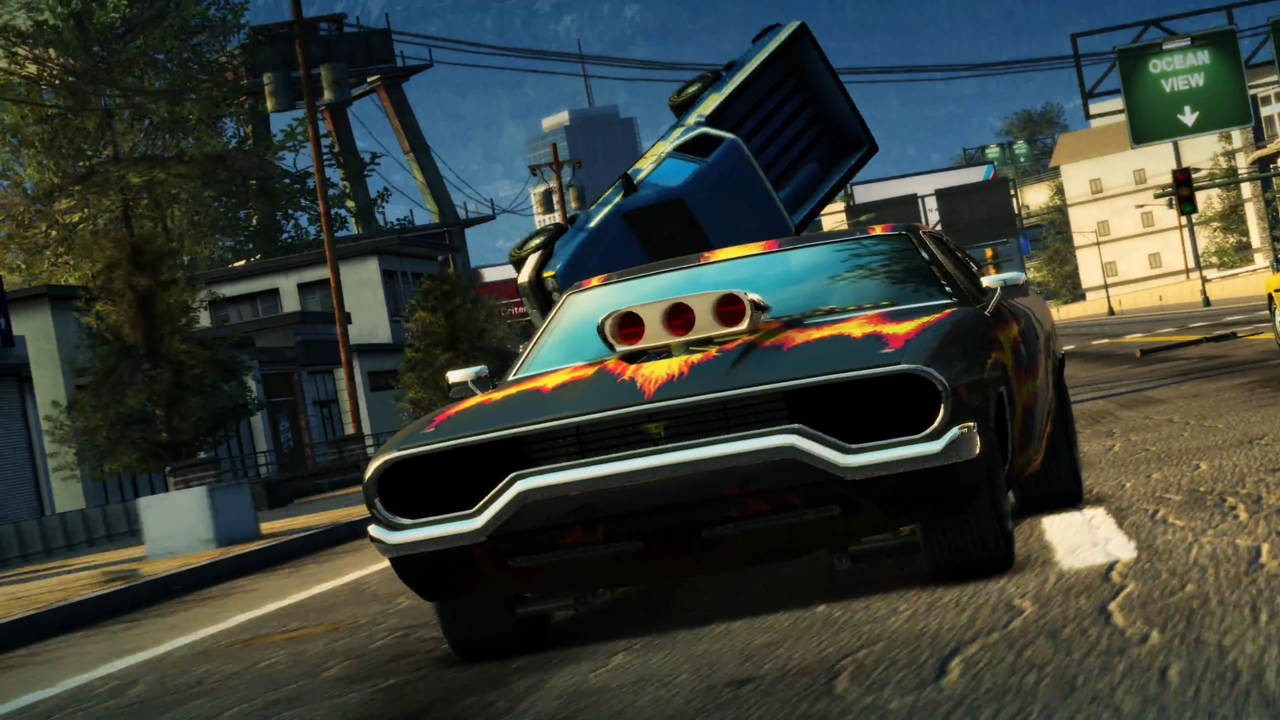 There's also nearly 100 different vehicles total that includes motorcycles, trucks, special vehicles, vans, hot rods, and more. Again though, I never got to experience a lot of these vehicles from the original game of the last generation so this will actually be quite new and refreshing to me.
I'm most excited though to see how the game will look in 4K. While I certainly thought it looked great in the previous generation, a 4K overhaul will definitely make it shine. I can't wait to see how gorgeous Paradise City will look on the PS4 Pro.
Why is it coming out now
It's really hard to say why the game is coming out now, but there could be some reasons. Criterion was originally making a new and very large open world game that has to do with vehicles and other kinds of extreme sports, something that was originally supposed to be a first of its kind.
Well after I read on another site that Burnout Paradise was coming to this generation of systems, it was mentioned that the open world extreme sports game they were working had been canceled. They didn't give a reason why which kind of stinks because I was looking forward to it.
Now with that game no longer coming, it's quite possible that Criterion or maybe EA themselves were pushing for a new Burnout game themselves. It's possible though that they may not have wanted to deal with the development costs of a brand new Burnout game so they probably decided to save time and money and redo a previous Burnout game for this generation.
Nearly all of their past Burnout games were pretty good, but I just thought Burnout Paradise was something special and I know a lot of other players did too. Fortunately, we do not have a long wait for this game.
How Much it will Cost
If you're wondering about the cost of Burnout Paradise, there is some good news. It will not cost the normal $60 for a brand new game. Instead, the price will be $40 and that will include all the DLC and expansions from the original game.
I think EA certainly made the right call here and I think they don't want to get anymore backlash as they have from some of their other games where micro-transactions played a huge part especially for stuff in the game that should've been included in the full versions.
It will more than likely be available at most major retailers as well as online stores that include Amazon, GameStop, Best Buy, Target, and Wal Mart just to name a few. I plan on picking this up immediately upon its release and I can't wait to install it.
Why you Should Buy It
I know why I'm buying it, but you should buy it because of the upgraded graphics as well as it being an adrenaline filled open world racer.
It makes me giddy just thinking about the fun times I had trying to cause insane wrecks by taking out other players that included both AI and online players.
The world is very big and it includes a large city as well as mountainous areas, windy roads, and open freeways. There are so many challenges and things to unlock as well that it will keep you quite busy but you'll always want to keep coming back for more.
I've been waiting very patiently for either a Burnout game or Midnight Club game to come out for this generation of systems and it looks like Burnout is the one to arrive.
Check out the video below that was released by EA so that you'll have an idea of what to expect when this game releases. I will definitely post my first impressions with the game as soon as I get it. Who else is excited that Burnout Paradise is coming to the PS4?