Welcome to Exploring The Crew Part 5. If you remember last time, I had finished up the landmarks in the New York area so that I could move on to exploring/finding the other landmarks in the East Coast region.
Well it seems that I actually missed one landmark in the NYC area and the reason I missed it is because I hadn't actually been to that particular area in the game before until very recently so without further ado, I shall start with what is truly the last landmark up by New York.
Long Island
How could I have possibly missed this? I'm not really sure, but I am glad that I went back to this area to find the last remaining landmark on the East Coast region. This particular area which is east of Manhattan Island and extends into the Atlantic Ocean, has four counties and is part of the NYC metro area.
This island is around 120 miles long and is one of the most densely populated islands of the United States with a population of nearly 8 million people. Long Island also contains JFK International Airport as well as the La Guardia Airport even though they are part of the borough of Queens.
There's quite a bit of history on Long Island as it played important parts in the Revolutionary War. In 1964, it was host to the World's Fair in the borough of Queens. As for the purposes of the game, the short cinematic shows older houses along the coast as well as a lighthouse which is pretty common for this particular area.
Now that the Long Island landmark has been found, that definitely takes care of all the New York area landmarks. I will now cover the remaining landmarks in the East Coast region.
Punxsutawney
This is a town in west central Pennsylvania with a population of a little over 5,000 people. That certainly doesn't seem very big for a town and looks like it would be one that would be overlooked like so many towns across America.
Believe it or not though this town is actually pretty famous for one thing specifically and even had a movie made about it that stared Bill Murray. Give up? Well if you don't know already, this town  is famous for Groundhog's Day. 
The famous groundhog known as Phil is brought out every year on Groundhog's Day which is usually on February 2nd and has been said to predict weather for the next 6 weeks or so depending on whether he sees his shadow or not. 
When you arrive here in The Crew, you are greeted with a small statue above the street of a groundhog wearing a suit. I would like to visit this town in real life someday during an actual Groundhog Day just to see what the celebration is like in anticipation of the so called weather prediction. 
Coal State
Large parts of Pennsylvania have been mining areas for coal and some parts are still mined for this natural resource.
Unfortunately, a lot of jobs in this once booming sector have been lost over the years thanks to competition from other countries over seas and lower prices for coal.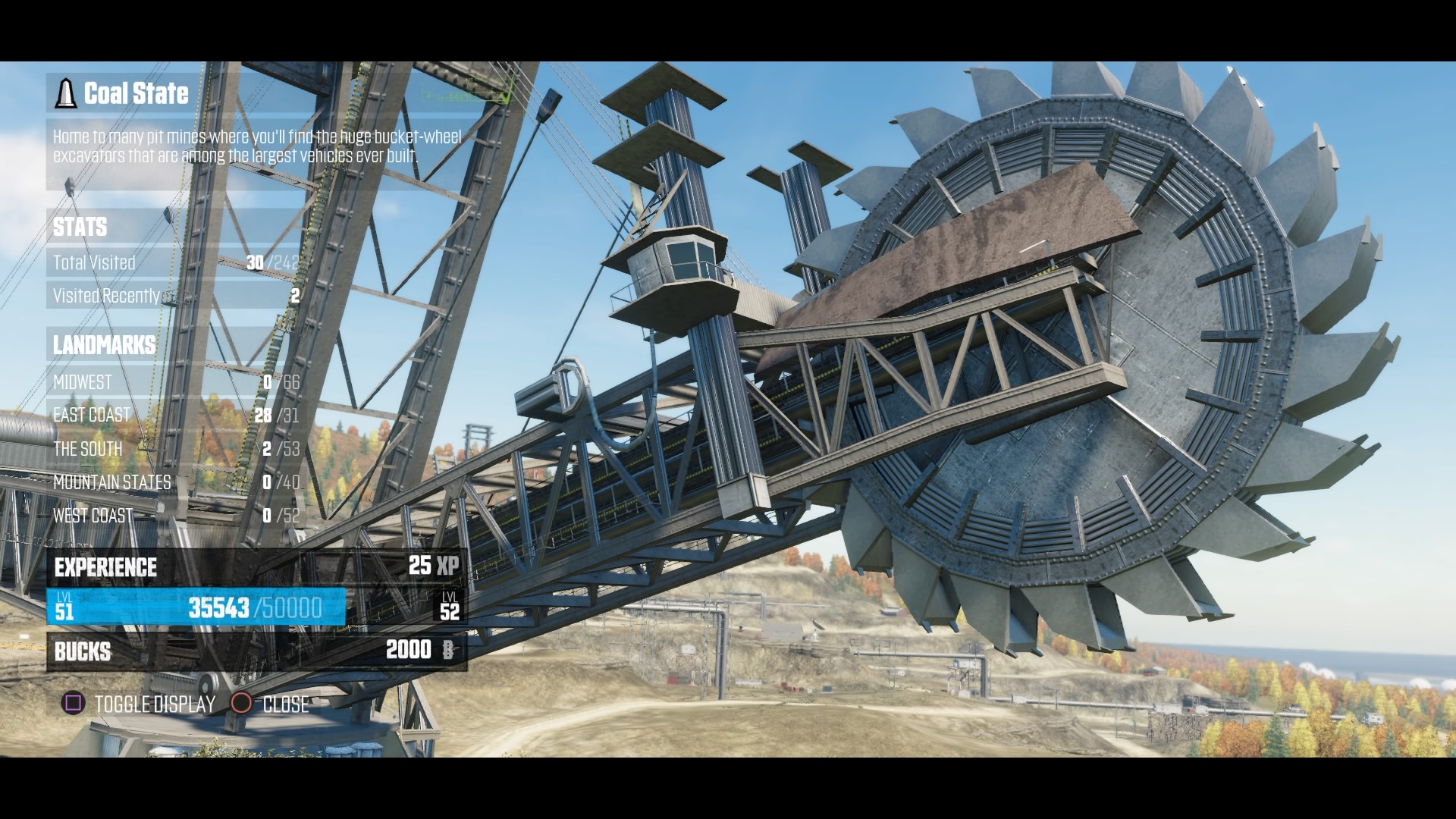 A lot of machinery is used to extract coal from the Earth and you'll get to see a huge bucket wheel in the game that is used to get coal out of these massive pits. When you arrive in this area, it can be a little bit difficult to navigate as you have to make your way down to a certain area in order to get to the landmark marker.
The Capital
After getting through the Pennsylvania area, it is time for the last stops in the East Coast region. Everyone pretty much knows about D.C. as the US Capital.
The Capital building is one of the landmarks here and it definitely resembles its real life counterpart here. I won't go into much more detail about that as you can read about it in my series about comparing the in game cities to their real life counterparts. 
Needless to say, this is where the US Congress and President will meet in order to try and get agendas and bills passed that pertains to functions of the United States. I'm not going to get more into that as I'm sure you are well aware of the politics happening right now. 
There are many other monuments here such as the Washington Monument, Jefferson Memorial, and Lincoln Memorial just to name a few.
The Pentagon
This is probably the most well known building in the US if not the world as it is the headquarters of the Department of Defense which is in charge of making sure all the military branches of the US are in good working order.
It is one of the most unique buildings in the world as it comprises over 6 million square feet of space and has a sort of hexagonal shape (hence the name Pentagon) that comprises of 5 sides. This building was built or at least started construction back in 1941.
On September 11th, 2001, one of the hijacked planes was flown into the west side of the building causing extensive damage and killing nearly 200 people. That section of the building has been rebuilt and is now also reinforced to better withstand collisions and bombs should something like that ever happen again.
Moving On to The South
This now concludes the East region of the map in The Crew and I'm now ready to move on to the next section which is The South. 
There are a lot of landmarks in this region some of which are in Louisiana, especially in New Orleans, and then there are a lot in Florida as well. It should make for an interesting time in terms of exploration in this particular region.
I hope you've enjoyed Exploring The Crew Part 4 and plan to return for more in the series as I make my way across the game map exploring the different areas and finding all the landmarks so that I can get a huge payoff. As always, feel free to post comments.