I'm back once again with another edition of Exploring The Crew! If you remember in Part 11, I was finishing exploring and finding the remaining landmarks in the southern region of the map.
A great majority of the remaining landmarks were in Texas and they generally ranged from Forts, to a dinosaur region of ancient fossils, lakes and dams, and a few towns in between.
It took me a little while to find the last remaining landmark in the South as it turned out to be very close to a landmark I had already been to, but did not realize it at the time.
Now that the southern region is finished, I'm ready to move onto the Midwest and find all the landmarks in this region of the map.
South Midwest
Yes, I know the name of this first landmark I encountered in the region is kind of odd, but that's what the developers chose to go with.
Anyway, I think most people prefer to call this area the southern plains or even the Great Plains. It generally refers to the states of Nebraska and Kansas, and sometimes Oklahoma gets added to the group.
The description of this particular landmark says that it crops growing, farmers farming, and not a cop in sight. That's not far from an accurate description considering I live in Kansas and believe me there are plenty of farm fields in this state though some areas might surprise you as
there are pockets of wooded/forested areas.
St. Louis
This city is one of the main major cities officially listed as being in the game and one of three in the Midwest region.
I've done a comparison of this city from the game to the actual city in real life which you can read about here. Now I've been to the real city only once and it was a couple of years ago. For the most part, it was a great place to visit and there certainly was lots to see, but it can be a very rough city if you don't know where you're going.
When people hear St. Louis, they can't help but think of its most famous landmark which is of course the giant steel Arch that rises above the city's tallest skyscrapers.
I did visit the Arch when I was there and got to see great views of its downtown as well as the Mississippi River on the other side and even a baseball game in progress. I'm glad to say that the steel Arch is in the game version of St. Louis and is definitely sight to behold in the game.
Bluegrass Region
This region encompasses northern Kentucky and it is sometimes hard to say that Kentucky is part of the Midwest even though it borders a couple of Midwestern states.
Nevertheless, the description of this particular landmarks states that blue Poa grass grows in this region.
It also appears to be a very fertile region that is perfect for grazing and growing things. Tobacco and hemp are some of things that are grown in this particular region.
It should also be noted that a majority of Kentucky's population is in this particular area which includes the cities of Louisville and Lexington.
Little Eagle Speedrome
This particular landmark is located in Indiana and in real life is actually called the Indianapolis Motor Speedway. It used to be the original home of the United States Grand Prix and is the current home of the Indianapolis 500.
According to Wikipedia, it is listed as being the highest capacity sports venue in the world is at can seat up to 235,000 and with infield seating raising it clear to 400,000 people! Gosh when you think about that, it pretty much equals the entire population of my nearby city of Wichita!
It was put on the National Register of Historic Places in 1975 and in 1987 it was designated as a National Historic Landmark which is the first and only site ever to be associated with the history of racing for vehicles.
It is definitely a site to behold in The Crew and there is a way inside the massive race track so you can see for yourself what it actually looks like in this historic race track.
Greenup
This is a very tiny town or village that resides in the state of Illinois. Not a whole lot to say about this small place other than a major interstate runs on the very northern edge of it.
In real life, this tiny village lies mainly in the south central region of the state, but in the game, it is not very far from Chicago at all and you can a view very nice shot of the Chicago skyline when you come upon the village of Greenup.
The landmark's description says that it was formally established in 1818 and that it lies southeast of Chicago.
Not really much more to say about this quaint little village other then the fact that it definitely represents one of the many towns of the Midwest.
Route 66
I find this incredibly awesome that the The Crew's developers included one of the most famous highways in America. To be honest, it just wouldn't be the same if you didn't include this great highway in the game's version of the US.
For those that may not know, Route 66 was the first intercontinental highway in the US and is (or was) part of the US Highway system (which was a prelude to the Interstate Highway System).
Route 66 goes from Chicago clear out to Los Angeles and passed through numerous towns and cities along the way which did include St. Louis.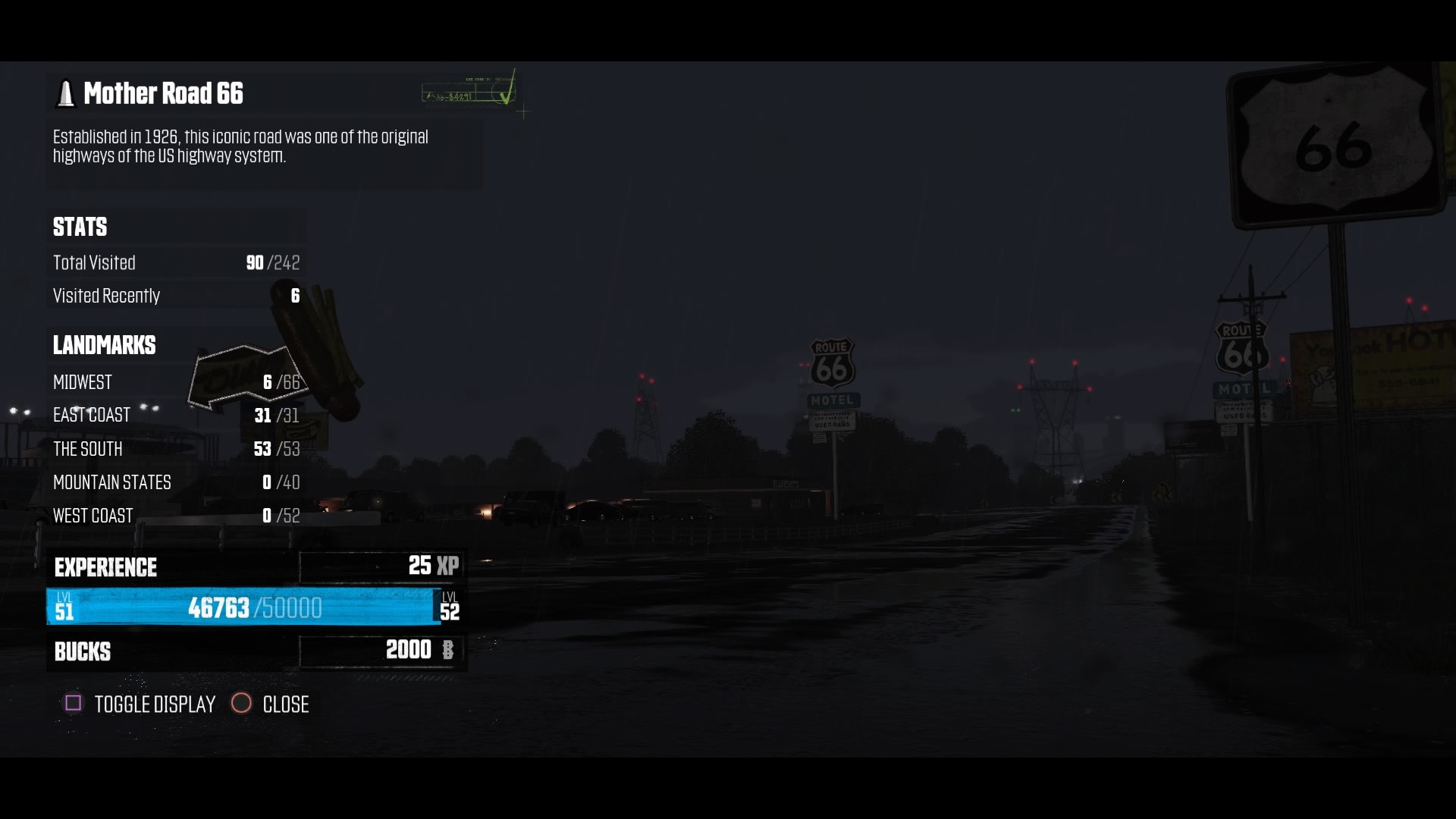 A lot of people used this highway during the earlier part of the 20th century especially during the time of the Dust Bowl and Great Depression.
The famous route is no longer commissioned since interstates pretty much replaced most portions of Route 66. There are many landmarks, relics, museums, and even portions of the original highway that you can see in some places.
My home state of Kansas has the smallest portion of Route 66 passing through it in the southeast corner of the state. Only 13 miles of Route 66 passes through Kansas before it dips down into the northeastern portion of Oklahoma or the southwestern part of Missouri if you're going east.
Kansas Sunflower Fields
It just wouldn't be the Midwest if you did not include one of the most recognizable flowers that Kansas is known for having as well being the state flower.
Right now, sunflowers are out in abundance and believe me there are just many fields of them here in Kansas.
Kansas is certainly not the only state in the country with sunflowers as you'll also see them in other states in the Midwest such as Nebraska and Iowa, it's just that Kansas seems to have the most of them especially if you're out in the western part of the state.
Another thing that sunflowers are known for are of course sunflower seeds which you can buy at many places and you'll see a lot of sports players consume them especially baseball players.
Doland
Doland is a very tiny town in South Dakota. When I say tiny, I mean TINY! It has a post office that has been in operation since the late 1800s which is kind of surprising considering other towns bigger than Doland have lost theirs.
Another interesting fact about this very small town is that it was the hometown of a former US Senator from Minnesota known as Hubert Humphrey.
A UFC fighter is also from Doland as well as South Dakota's 26th Governor. The description of the landmark of Doland doesn't really say anything else other then it has small town charm.
In my opinion, Doland is one of those towns that if you come up to it and blink, you'll have already passed through it. I believe Doland's population isn't even above 300. Kansas has a lot of towns pretty similar to Doland or even smaller.
Black Hills
The Black Hills is an isolated, but small mountain range in the far western part of South Dakota which actually also goes into the state of Wyoming.
The tallest peak in this particular mountain range is called Black Elk Peak and it has a height of over 7,000 feet. 
The Black Hills National Forest also goes through this area and it makes it one of the most unique features of South Dakota.
Wikipedia states that the Black Hills received its name because from a long distance away, it looked to have a very dark appearance and that is thanks to the many trees to encompass this area.
I will have to say that driving through here is quite an experience and from what I saw, it represents this part of the region quite well. There's an interstate highway in the game that is mostly elevated in the area of the Black Hills that offer some breathtaking views before you head into the Rocky Mountains.
Dakota Grasslands
This particular area goes from South Dakota into North Dakota and is a series beautiful rolling grasslands that have great vistas and a large historic fort, according to the description of the landmark in the game.
It honestly kind of reminds me of the Flint Hills region here in Kansas that has nice vistas as well and is like a great escape from modern civilization if you ever go into this area.
There are all kinds of different wildlife that make this area unique and certainly worth a visit if you ever go through both South and North Dakota. 
Doing Your own Exploration
With The Crew 2 currently in development and betas of the game to be released soon, now is a great time to pick up The Crew, especially the Ultimate Edition of the game so you can see for yourself everything I've talked about above and in this series.
The Ultimate Edition of The Crew is currently selling for $33 which is a good price for this very large open world racer.
It's not the greatest racing game in the world, but it is just fun driving and exploring the massive version of the US Map that makes up The Crew.
With the holiday season not too far away, it would also be a great gift.