I'm back with another edition of Exploring The Crew. We are now at Part 10 of the series and moving away from the Florida area. If you remember last time, I had finished up with the Miami area as well as the Everglades.
Well now it's time to move onto other parts of the South which include a few other areas along the Gulf Coast and some areas I hadn't been to before. I'll also be going through Louisiana, before hitting a couple of landmarks in Texas.
Without further ado, here's more of my exploration and finding of landmarks in the South. One thing I do want to mention is that there are some areas I haven't fully explored yet of this region, so I know that there are going to be more landmarks to discover.
The Gulf Coast
This is a region that stretches from Texas clear on over to Florida and it includes Louisiana, Mississippi, and Alabama as well. You'll find a lot of industries along here that range from fishing, shipping, tourism, and oil.
You'll find a lot of oil rigs out in the water here as there is a lot of oil deep in the Gulf of Mexico. Some coastal cities that are along this stretch include Houston, New Orleans (which is of course in the game), Mobile, and Tampa.
One unfortunate thing though is that this area is prone to receive hurricanes and tropical storms and sadly the Texas part of the Gulf Coast has just got with with a major one which is Hurricane Harvey.
I know it has already caused catastrophic damage in that part of the state and it will continue as it is expected to dump 40+ inches of rain in places.
I'm sure you can remember the devastating hurricanes that hit the region in 2005 with the most damaging one being Hurricane Katrina. Nevertheless, this area is still a vital region as there are many oil rigs as well as refineries in this area that stretch from Texas to Louisiana and I believe it's currently the area with the highest concentration of oil refineries in the US.
The game has the description of the Gulf Coast stating that it's a peaceful stretch of coastline and says that it is sometimes referred as the 3rd coast.
The French Quarter
This is probably one of the most well known areas of the city of New Orleans as well as being one of the top tourist attractions in the United States if not the world.
This area is what makes New Orleans famous because of its architecture that you'll be hard pressed to find architecture like this anywhere else and also the culture and festivals that make it so unique. I've been to this area many times and make sure to visit it every time I visit the city.
There are many unique shops, clubs, bars, restaurants, hotels and more in this part of the city as well as people living there and this is the most popular area whenever Mardi Gras is going on.
You also have to visit Jackson Square in the heart of the French Quarter where you'll see many street performers, vendors, live music and more. It's not unusual to see funeral processions going through here with a live band or even weddings as they parade down the streets.
The description of this landmark in the game says that it is known as "Vieux Carre" and that it is the oldest part of the city as well as being considered a National Historic Landmark.
New Orleans Industrial
This area of New Orleans lies along its industrial canal. There's not too much to say about this area as its a collection of older warehouses, factories, and plants such as electrical plants.
You'll also see a lot of barges in this area in the industrial canal. This area used to be one of the city's main areas of employment especially in the early and middle part of the 20th century.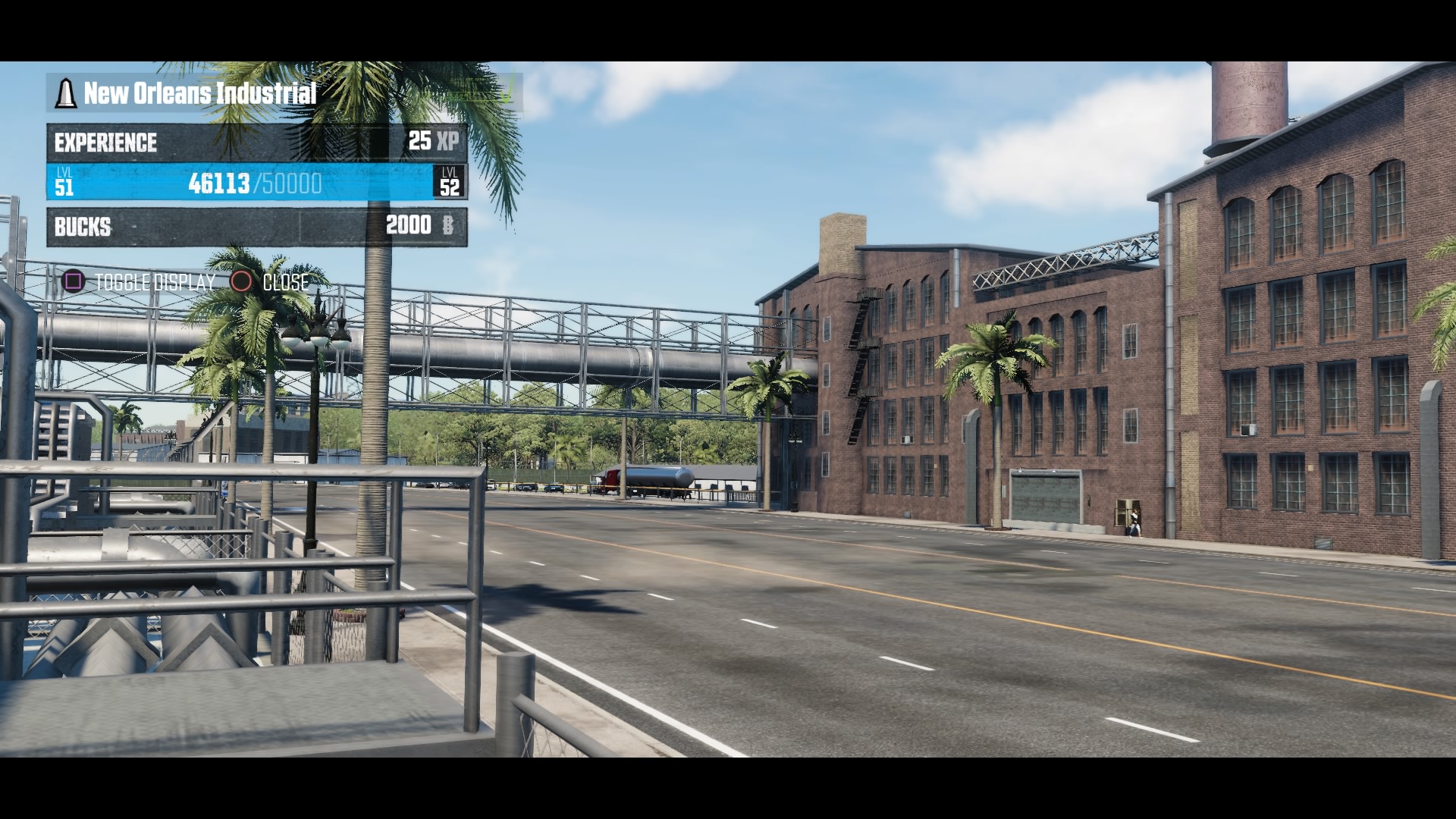 This area is not used as much anymore especially since hurricane Katrina hit the city, but it is slowly but surely being converted into other uses currently such as lofts and even places to house offices for new startup tech companies.
Swamp
A good majority of Louisiana is comprised of this type of landmass. Swamps are basically forested wetlands that are home to many kinds of animal and plant life, but are probably most well known for having alligators.
You'll find a lot of alligators in the swamps of Louisiana as well as all kinds of snakes. Louisiana and Florida are probably the two states to have the largest amount of alligators.
You may have seen shows on television that show people living in this area and how they hunt alligators for food and also to sell them. If you're driving along some of the roads and highways that go through the swamps in Louisiana, instead of signs letting you know to watch for deer like in other states, you'll see them instead to watch for alligators.
Bayou
A bayou is a body of water that's found in a low-lying, flat area. It can be an extremely slow moving river or a marshy lake or wetland, according to Wikipedia.
You'll find many of these areas in Louisiana and southeastern Texas. A lot of people live in these areas and they like to fish here as there tends to be a good abundance of them.
The only bad thing is that if there is a lot of rain, these areas tend to flood very easily and you'll definitely want to seek higher ground if at all possible.
There are alligators in bayous as well as certain kinds of snakes, especially water moccasins which are very dangerous.
A fairly well known bayou is one that goes through the middle of Houston, Texas which is called Buffalo Bayou.
Natchitoches
This is a town in Louisiana with a population of nearly 20,000 people. What makes this town really unique that is that it was established in 1714 long before it was even incorporated into a town.
It is also the oldest permanent settlement within the borders of the Louisiana Purchase. The town/area was named after a Native American tribe.
It's located within the west central part of Louisiana and lies along Interstate 49. I've been through this area before as I've traveled to New Orleans and back. The town lies near the Red River which flows into the Mississippi River.
It's a nice, quaint area that the game developers included in the game and it has some architecture that is very similar to what you'd see in the French Quarter in New Orleans.
Clarksdale
I've never been to this town before in real life or in the game so this was a completely new area to me. The city of Clarksdale resides in the state of Mississippi in the Mississippi Delta region.
The description of the landmark says that the town has been home to many blues musicians. The town is named after John Clark who founded the town in the middle part of the 19th century.
There are some historical sites in Clarksdale such as the Riverside Hotel which is near where a popular Blues Singer died in a car accident along highway 61. There's also what's known as the Delta Blues Museum in Clarksdale that showcases some of the areas best well known blues artists.
Groom
This is apparently a tiny town in the eastern part of the Texas Panhandle. I've never been here before, but it lies along Interstate 40 and whatever is left of Route 66 (I plan to go this way in a future trip along Route 66).
The population of this tiny town is somewhere near 600, but what makes this town unique is that it has some interesting landmarks.
First off, there's a HUGE cross that lies along the interstate. It's said to be around 19 stories or around 190 feet. It is surrounded my much smaller crosses, but they number around 14 total.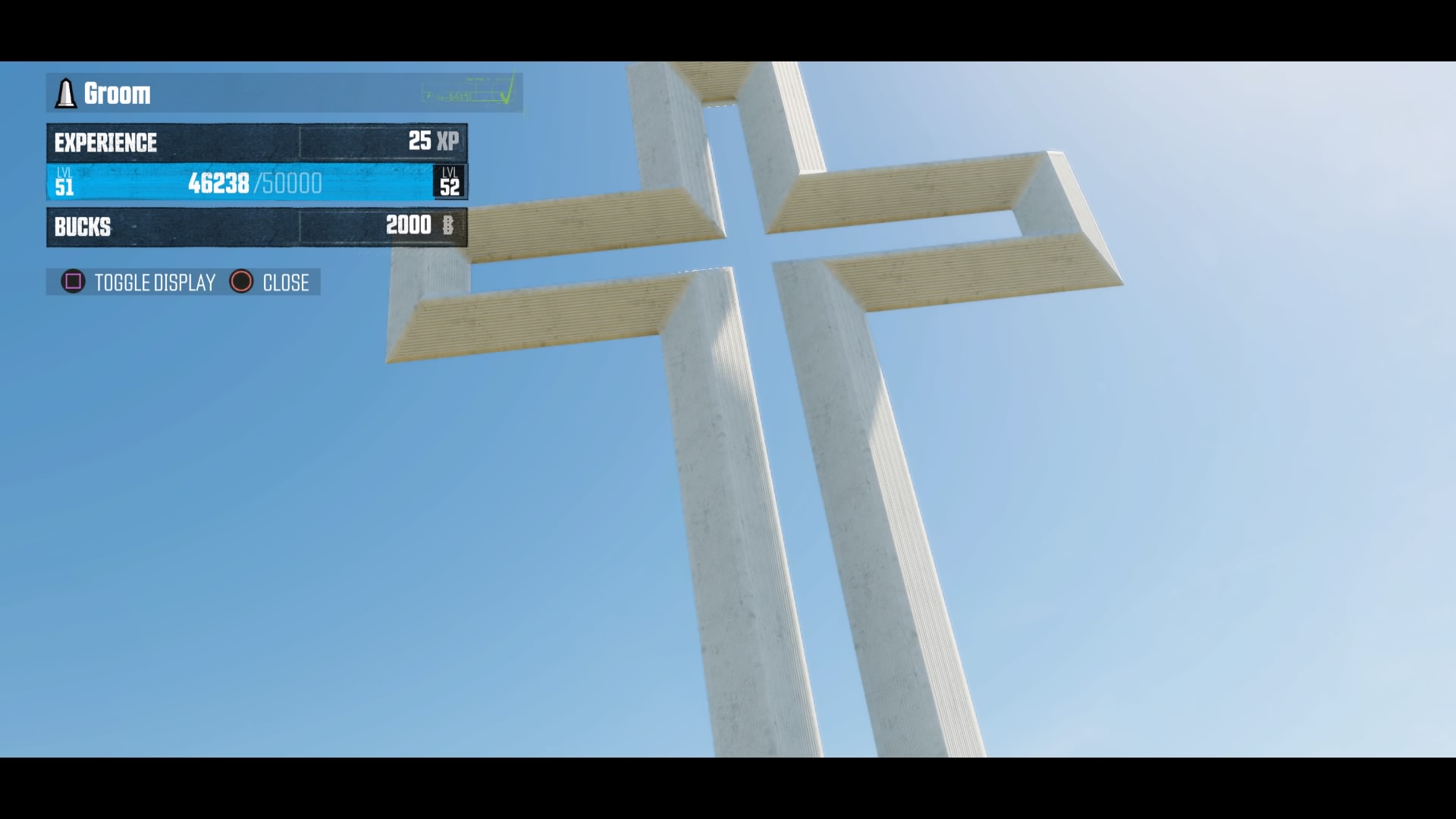 Another interesting landmark is that there is a leaning water tower along the interstate or old Route 66. It is a popular place for people to get pictures of as they travel along the remnants of the old highway.
Amarillo
I have actually talked about Amarillo before as it was in one of my articles talking about hidden or unknown cities in The Crew that developers quietly put in the game.
This city is known as the helium capital of the world as it contains one of the largest helium fields in the world (It did briefly shut down at the beginning of the decade causing helium prices to skyrocket. So much for balloons at your party back then).
The population of Amarillo is almost at 200,000 and it also lies along interstate 40. It has a few well known Route 66 attractions which is Cadillac Ranch and The Big Texan Steak Ranch.
I haven't been to Cadillac Ranch yet, but I have been to the Big Texan Steak Ranch which if you don't know, is famous for its 72oz steak dinner. If you can finish everything in under an hour, your meal is free. I wasn't quite brave enough to try it.
Part 11 Coming Soon
Well that concludes "Exploring The Crew Part 10". I hope you enjoyed reading about my travels into other parts of the South and there will be more to come from Texas as I try to find the remaining landmarks in the region.
If you still haven't played the game and are itching for a large open world map to explore to your heart's content, then now is a good time to buy it.
I know I've mentioned it before, but Amazon has unused copies of The Ultimate Edition of The Crew selling for $28.95 so if you want to try this game out to get you ready for the sequel that's coming, just click the image below and pick yourself up a copy.