I certainly want to become a Need For Speed Legend with the new downloadable content that EA has released called Need For Speed Legends. If any of you are familiar with the Need For Speed Underground series from the PS2 days, then you'll be happy with this new content for the game as it reintroduces the in game character Eddie from that series.
Once you download the content, install it, and then boot it up, you'll almost immediately be contacted by one of the in game character's named Travis. He tells you of a new person arriving to Ventura Bay that he has had experience with in the past. Eddie will no longer race Travis, but you'll be able to take part in the 15 challenges that are included in the content. You'll soon be contacted by Eddie's girlfriend who will tell you to download an app on your in game phone so that you can have access to the challenges and find them on the map.
As I've stated before, Eddie's challenge is made up of 15 challenges altogether with the final one I believe being a race against the legend himself. I haven't personally done all 15 challenges yet as I am working my way up there. I just recently completed challenge number 5 and let me tell you, that was VERY challenging! Now if you've completed the main story or challenges in the game, you should have a pretty fast vehicle (if you've done the performance upgrades) to compete with in the challenges. I have the Nissan GT-R Premium and it is a fast beast to contend with.
Thanks to completing some of the challenges already, my rep level has increased to 50 giving me access to the last little bit of performance upgrades that include the engine block and clutch in which I also easily had the money to pay for those upgrades. My Nissan now has horsepower over 1,200 and a top speed of 235mph and is also now able to go from 0-60mph in 1.80 seconds. Now even before I did those upgrades, I was able to pretty solidly complete the first 3 challenges without much struggle. Challenges 4 and 5 though were a different story.
The first 5 challenges generally consist of point to point races, and circuit laps in which you need to get the fastest lap possible in order to pass the challenge. As I've said though the first 3 were pretty easy. When I got to challenge 4, it was a challenge which took place up in the hilly suburban area of the map that consisted of tight corners and two lane roads as well as driving through the grass and dirt at one point. This was the first challenge where I did the circuit laps where you have to have the fastest lap to pass. Did I also mention you have a time limit also? Let me tell you, just when you think you're getting close to winning, one of the other drivers you're going against suddenly comes in slightly ahead of you by maybe tenths of a second which might just frustrate you because the timer has gone down far enough to where you might not have time to do another lap to try and come back out ahead and cause you to come in 2nd or 3rd place instead. It took me a number of tries to pass it, but I finally did it.
Once you complete a challenge (or fail it for the first time), you're immediately contacted by Melissa again telling you that a new challenge is ready for you to partake in or that you blew it and you can try it again. Thankfully she only contacts you once the first time you fail it and does not repeatedly call you each time you fail so she can demoralize you.
Once I passed the 4th challenge, I decided to take a little break from the game for a couple of days and just tried it again today ready for challenge number 5. The 5th challenge takes place closer to the downtown part of the city not far from the industrial area. Just like the 4th challenge, I am once again having to do circuit laps in order to come in with the fastest lap to win. I also once again struggle with this challenge the first few times I tried it. What makes this one really challenging is that there are cops that can come after you while doing the circuit and if you're not careful or not paying too much attention, they will come flying around a corner slamming headfirst into your car causing you to crash and lose precious seconds off your lap time. At one point I was doing so well and sure I was finally going to come out ahead of one of the other drivers that has normally beat me and then as I drift around a corner, BAM!!! I get slammed into by a police car! I got so frustrated I nearly threw my controller and said some choice words.
After continuously coming in anywhere from 2nd to 5th place, I still kept earning rep and money and finally my rep level had increased to 50 to where I could purchase the last of the performance upgrades that I had mentioned earlier for my Nissan. decreasing the time it takes to go from 0-6omph (by three tenths of a second from 1.83 to 1.80) helped ever so slightly and also getting used to the circuit and knowing when some of the tight turns are coming so I can drift into them sooner without having to slow down much. It did eventually take me a few more tries before I was able to finally pass it. I was so happy when I finally did it, but Melissa contacted me once again saying how impressed she is that I'm still hanging around and that the next challenge is already available for to take on. I decided to call it a night on that and try it another day.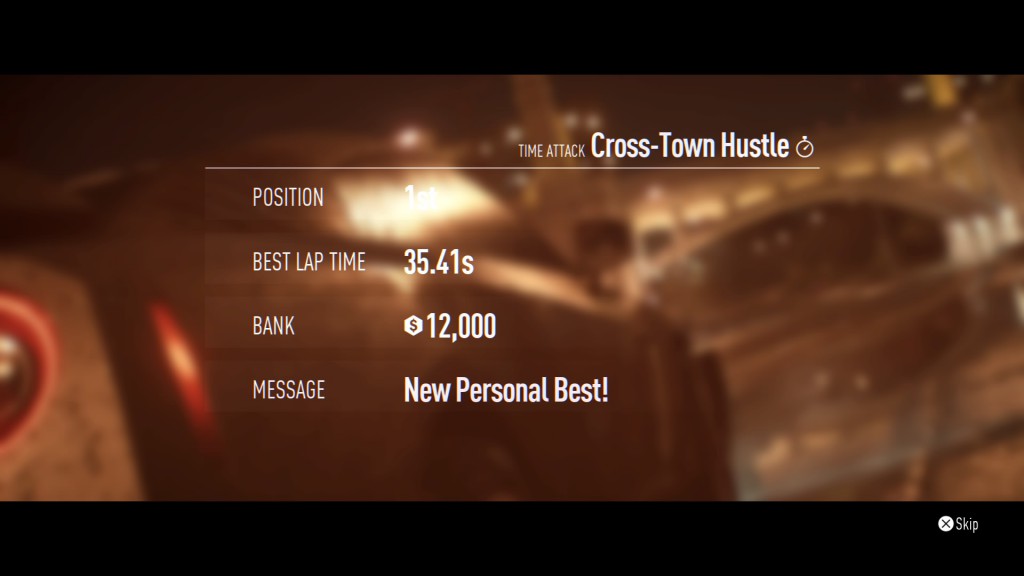 Now if you want to know what all is included in the Need For Speed Legends update, here is a list from EA's official Need For Speed site from the Legend's update page:
"Music
Music has always had a special place in Need for Speed and we're delighted to be able to add a selection of new tracks. For those of you that have been with us for a while now, these songs may strike a chord:
Aquila 303 – The Need for Speed (1994)
Overheated – The Need for Speed (1994)
Scud – The Need for Speed (1994)
Toxic Exhaust – The Need for Speed (1994)
Menu – NFS II (1997)
Romulus 3 – NFS II (1997)
Sirius 909 – NFS III Hot Pursuit (1998)
Callista – NFS Road Challenge / High Stakes (1999)
Quantum Singularity – NFS 4 Road Challenge / High Stakes (1999)
The Good, The Bad, The Eddie – NFS Underground (2003)
Intro Song – NFS Underground 2 (2004)
The Baddest – NFS Underground 2 (2004)
I Am Rock – NFS Most Wanted (2005)
Belt – NFS Carbon (2006)
Hard Drivers – NFS Carbon (2006)
Induction Kit – NFS Carbon (2006)
Decalomania – NFS Pro Street (2007)
Bezel – NFS Pro Street (2007)
Wraps
We've loved seeing the wraps you've been creating, and we'll be adding in a whole host of new pre-set ones that you may recognize from past NFS games, allowing everyone to get access to some of the most iconic designs through NFS history.
Underground
Chad – Toyota Supra SZ-R
Samantha – Honda Civic Type-R 
Underground 2
Rachel – Nissan Skyline GT-R V-Spec 1999
Caleb – Ford Mustang 1965
Most Wanted
Big Lou – Mitsubishi Lancer Evolution MR
JV – Dodge Viper SRT
Sonny – Volkswagen Golf GTI
Kira – Mercedes-AMG GT
Taz – Mitsubishi Lancer Evolution MR
Webster – Chevrolet Corvette Z06
Victor – Toyota Supra SZ-R
Baron – Porsche Cayman GT4
Ronnie – Mercedes-AMG GT
Ming – Lamborghini Aventador
Jade – Ford Mustang GT
Izzy – Mazda RX7 Spirit R
Razor – Ford Mustang GT
Earl – Mitsubishi Lancer Evolution MR
Carbon
Angie – Dodge Challenger SRT8
Pro Street
Karol Monre – Ford Mustang GT
Nate Denver – Ford Mustang Boss 302
Ray Krieger – BMW M3 E92
Rayo – Mitsubishi Lancer Evolution MR
Decals
Love creating your own wrap? You may be wondering if we're going to be adding in any new decals to the game. If so, you'll be pleased to know that we've got a bundle of new decals on the way to make your one of a kind ride even more unique. With over 200 decals being added there's something for every ride.
Maximum REP increase
We increased the REP limit from 50 to 60 in the Icons update and will be doing the same again in Legends. With an increase up to REP level 70, you're going to be able to head back onto the streets, earn REP and along the way unlock new decals.
For each REP level you gain between 61 and 70 you will unlock a brand new decal. From a Speedhunters heart to Drift Punk logo, there's something to help finish off your latest wrap design. We're big fans of the fish at REP level 67, keen an eye out for that one!
Collectables
We're expanding on our list of collectables too. First up is a brand new type for you to seek out and add to your collection.
Urbex Spots are located across Ventura Bay and can include; graffiti murals, statues and other interesting details you may have missed when travelling past at 200mph. There are ten in total, just waiting for you to find.
We're also adding in 12 new donor cars. Finding these will unlock one of the new pieces of customization that we are adding into this update. Track them down and add their parts to your inventory.
Achievement and Trophies
Three new achievements and trophies will be unlockable, go out and earn them:
Zero to hero – Win a race while driving Eddie's car
Eddie is back – Win Eddie's progression
Hit the ceiling – Get to REP level 70
Brake Discs and Calipers
Fans who have been with us since the day we announced will have noticed we talked about the option to customize brake discs and calipers. We've applied the necessary polish and made the required tweaks and can now confirm that both of these customization options will also be included within the Legends update.
Daily Challenges
More daily challenges are the on way and will give you even more new ways to hit your monthly rank targets.
General bugs, tweaks and improvements
We've squished a number of bugs and made improvements across a variety of areas, including AI.
Full Patch Notes
Brand new progression thread unlocked at Rep Level 25. Eddie and Melissa are back and ready for a new challenge in Ventura Bay. 15 new events with a great reward at the end
Unlock Eddies Nissan Skyline GT-R V-Spec (1999)
12 new Donor car collectables hidden around Ventura Bay
10 Urbex spots – Collect interesting spots around Ventura Bay
113 New customisation items for a selection of cars
New screens in My NFS to track new collectables and progression
Rep Level has now been increased to 70, each level unlocking new decals for the Wrap editor
3 New Achievements & Trophies
New Daily Challenges and new rewards
Hundreds of new decals so you can make your favourite Need for Speed cars
20+ Pre-set Wraps from Most Wanted, Underground and Pro Street
A selection of new music tracks to remind you of the old days
Ability to mute new phone calls
Phone call improvements
You can now customize brake discs and calipers!
Improvements to AI
Various bug fixes and stability improvements"
As you can see, there are a number of fixes and other goodies released for this update. Definitely check back as I will post more of the further challenges ahead and the struggles I'm sure I will have with them. If I'm already struggling with challenges 4 and 5, I'm scared to see just how challenging the rest of them will be. Here's a video below of my first try taking on this challenge. Enjoy!