If you remember a little while ago, I talked about the newest content released for GTA 5 which you can read about here. The Progen Itali GT Custom looks like a really nice and fast car but at the time, I really didn't want to buy it because of its hefty price tag and the extra money spent to upgrade it as well.
Well after thinking about it for a bit, I ultimately decided to buy it. After all, what's the point of having millions of dollars in GTA 5 if you're not willing to spend it? I'll still have a couple of million dollars afterwards and then I can do what's necessary to earn more money.
So without further ado, here is my experience with GTA 5's newest car. This is the first part of more to come as I will definitely need to spend a lot more time with it.
The Purchase and the Pickup
As I said above, the Progen Itali does have a hefty price tag, but I had a little over $3,000,000 and the price of Rockstar's newest car to the game is $1,189,000. Of course this does not include close to another $500,000 if you want to add upgrades and customization's to the car.
The only place to purchase this vehicle is at Benny's Original Motorworks. You actually have to go to the website (in the game) in order to purchase it. When I started up a new multiplayer game online, I was in my apartment in the game and pulled up the game's smartphone and went to the website.
After finding the car and choosing which color I wanted, I made my purchase and had it delivered to one of the 3 garages I own.  I chose the garage that I own on Dry Dock St which is around the southeastern part of Los Santos.
Once I picked that location, a message popped up saying my new vehicle would be delivered there shortly. Happy with my new purchase and ready to go try it out, I head down to my apartment's garage and choose my motorcycle to drive to the garage where the Progen Itali will be brought to.
Once I'm out of the garage at my apartment, I bring up the map and plot my route to the garage and head towards that direction. As I'm driving fairly fast and get past the freeway, I hear the sounds of a jet in the sky nearby. I then see it up ahead firing its massive guns at the ground.
I immediately slow down because I know another player is flying that jet and more than likely is shooting at other players and will probably come towards me.
Once I see the jet pass, I start to speed up again and head towards my destination, but I noticed the jet turn back around and is heading towards my location. I start to speed up as fast as possible because all of a sudden I hear the Hydra's massive guns firing and cars exploding near me.
I manage to some how not get hit as the jet once again flies by, but I lose control of motorcycle, crash into a car, and my character goes flying into the air landing really hard on the asphalt with blood spattering.
How I managed to not die right there, I'll never know, but I'm thankful that I didn't. I quickly head back to my bike and drive off back towards the garage on Dock street. I manage to make it there without any other incidents fortunately and head into the garage.
My first Drive with the Progen Itali…and it's first Destruction
Once I entered the car garage, lo and behold was the beautiful and sleek looking Progen Itali GT Custom. It was a beautiful red, although the top part of it was a different shade, more orange like than the rest of the body. It didn't matter because I was going to take it to Benny's shop and get it changed as well as upgrade it.
I pull out of the garage, plot my route to Benny's custom shop and take off. The stock Progen is not bad although a bit loose and a little hard to control. I manage to keep control of it for the most part, but have to slow down here and there.
As I'm following the route to Benny's, I suddenly hear the sound of a jet and the next thing I know there are cars exploding in front of me from massive machine gun fire from the jet. I try to slow down and back up, but it's too late, BOOM! My precious Progen Itali is destroyed. It's nothing but a burning hulk of metal now.
Grrrr……not happy about this, but it'll be ok. All I have to do is get the phone out and call Mors Mutual Insurance to make a claim on the car. Don't I have to pay a deductible though? The answer is no, because the other player who destroyed my vehicle has to pay up which comes to the tune of $14,862.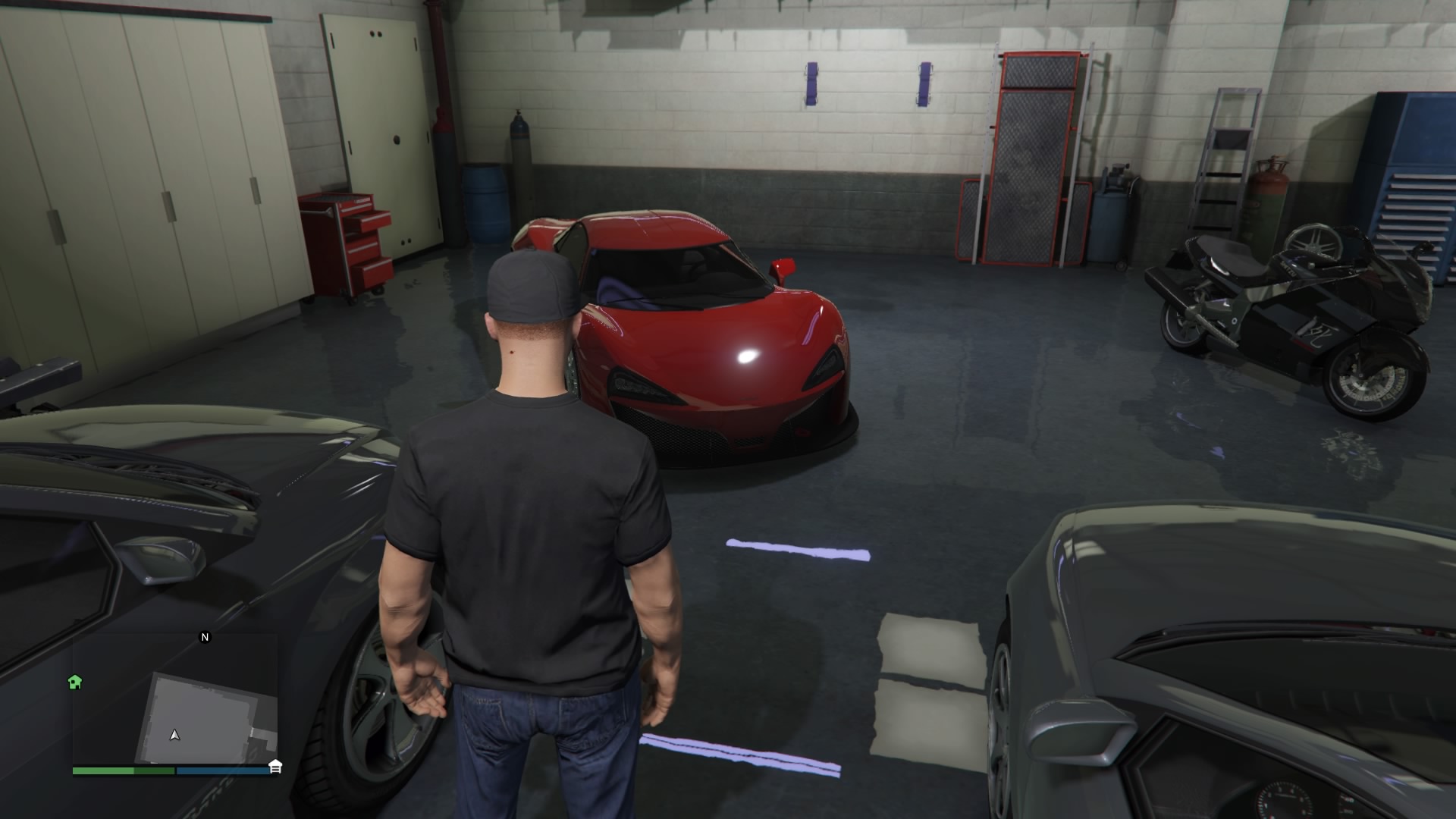 All I have to do now is head over to Mors Mutual Depot to pick up my replacement. It's not far from where my apartment is in the downtown area.
I don't want to walk the rest of the way there so I step out into the street and steal a random car. The person I took it from is none too happy about that especially since I get a threatening text and then a bounty of $1000 placed on me.
Not more than 2 seconds after that happened, there are sudden explosions in front of me and all of a sudden my stolen car explodes killing me. It wasn't the same player who killed me before, but a different one! Oh I'm getting mad at this point and seriously considering getting my own Hydra jet and going after this guy.
I ultimately decide against it as I really want to get my car and bring it over to Benny's to get upgrades on it. As soon as I re-spawn, not far from the location I was killed, I immediately steal another vehicle and off I go to the insurance depot to pick up my car.
This time I make it to the depot without getting killed and pick up my beautiful replacement. I immediately get in and head on over to Benny's custom shop.
Once I arrive and enter the garage, I'm ready to customize this car. After just a small repair, I put full 100% armor on the Progen and then start going for performance upgrades. I put on race brakes which cost $35,000, move on to bumpers and add one to the front of the car, and then I move on to engine upgrades.
I choose EMS Upgrade Level 4 which gives the car maximum acceleration and costs $33,500. Next up is exhaust and that completes the performance upgrades. The final thing I do is change the color of the top half of the car to a red that closely resembles the red of the rest of the vehicle.
After giving it a good look over, I decide I am ready to leave and check out my upgraded Progen Itali in action. I leave the custom workshop and speed down the road. The acceleration is super fast and quickly gets up to speed. I'm moving down the road at a very fast rate, dodging traffic and whatnot and head towards the arena.
Unfortunately, I try hitting the brakes and must've not pushed the brake button down hard enough because I go speeding towards one of the garage doors at the arena and slam into it, causing major damage to my car and the back window completely shattering as well. I didn't get killed thankfully and the car was still able to be driven after I got it upright.
Slamming into that garage door just slightly under the arena was actually a good thing because after that happened and I got the car upright, once again I hear a jet flying above and its massive guns causing mayhem very close to me.
After the jet passes, I decide to head to LS Customs to repair my new car. I head to the one very close to one of my garages under a freeway. I arrive at that particular area and proceed to find the entrance to Los Santos Custom, but my car comes under fire.
No, it's not from someone flying a jet this time but instead a player on the ground and firing an automatic gun at me. This is where the armor upgrade came in handy because it kept me from getting killed. Once I turned my car around and saw where he was, I sped up and drove right into him, killing the player instantly.
Finally, I'm no longer the victim! I take someone else out and my car was the weapon this time. This time I find the entrance down into LS Customs and head down there to get my car fully repaired. After that is done, I plot a course to take it to my garage and save it for later.
I do take it out later on for one last drive on the freeway to get it up to speed and my goodness does it go. I need to break in the car more by getting it involved in races and other challenges which is what I plan to do next.
Well I hope you enjoyed the story of my crazy, first experience with GTA 5's newest car. I've got a part 2 coming soon so stay tuned. Hopefully it involves less destruction at the hands of other players using a fighter jet! In the mean time, check out the entire video below of my experience with the Progen that I just described above.