It's that time of year! The big E3 game expo has now come and gone and Sony, Microsoft, Nintendo, and a whole host of other game developers have shown up and coming games. It has not been disappointing with what's been shown thus far (at least in my eyes).
I definitely have some news on games announced at E3, specifically, open world games that are coming to the PS4 (and some of the other systems). Most of them are sequels, but they definitely huge announcements nonetheless and are very exciting. Well I'm going to get to some of the open world games that have been revealed as well as show some teaser trailers at the end.
Just Cause 4
I have done a review of Just Cause 3, but I'll be honest, I just really haven't played it much. That's not to say that I thought it was a bad game as I loved the gameplay mechanics in it such as the grappling hook and the different adjustments you can make to it. I love the very large open world map in it as well, but there's just been so many other good open world games and there's only 24 hours in a day.
Last week at E3, it was announced that Just Cause 4 is on its way and that there will be some big changes to the game. From what I've seen so far of it especially from the gameplay trailer, it looks absolutely amazing as they've totally revamped the physics in the game and from the looks of it, weather will now play a huge part in the game. According to IGN, the game developer's known as Avalanche Studios, got rid of their old game engine and have used what is called the bespoke APEX engine which has physic-based rendering, actual wind, and a brand new animation system.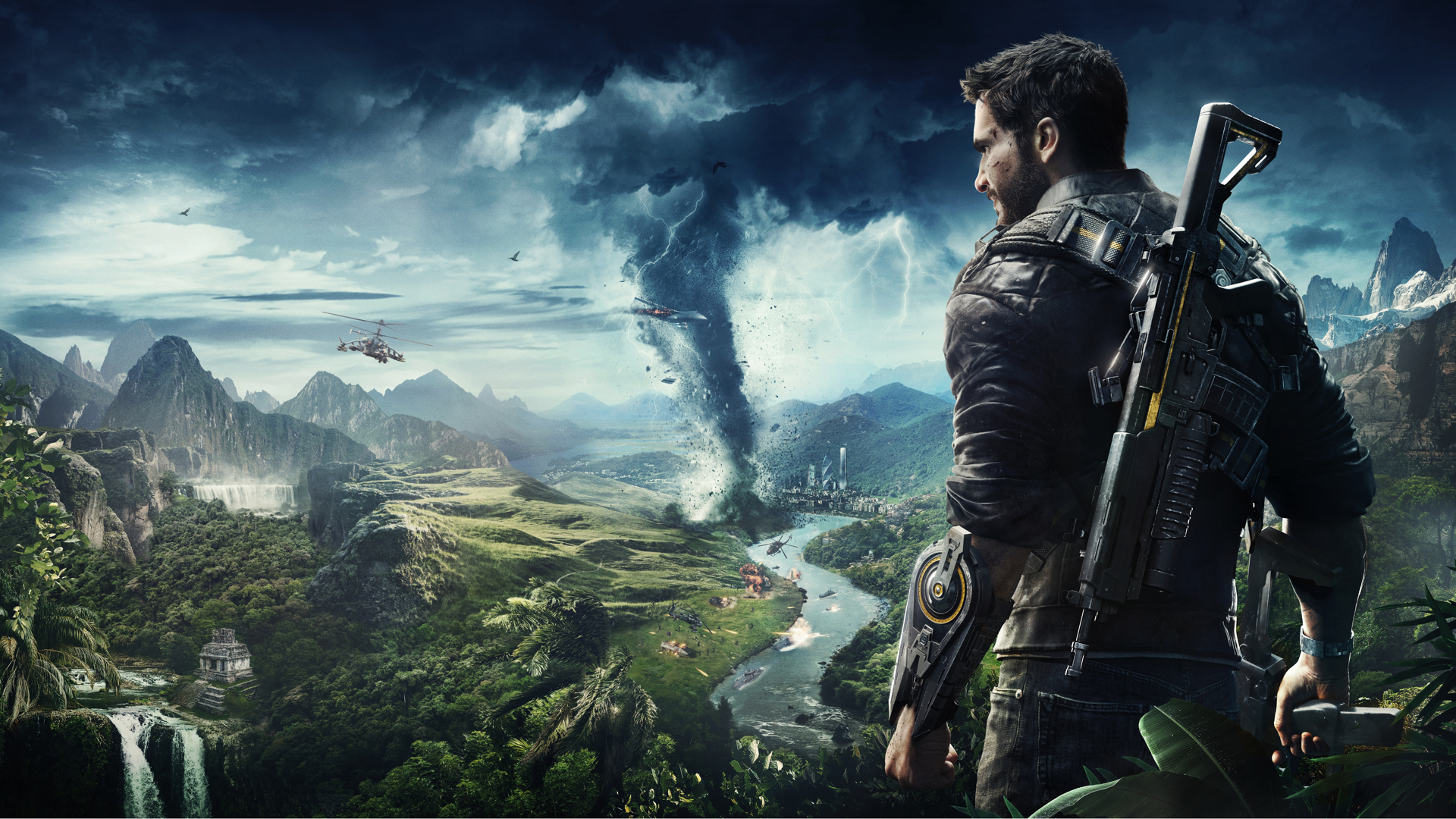 What this means is that it will allow for major weather phenomena such as strong blizzards and even tornadoes which will suck things into it just like real life tornadoes! I live in Kansas and have certainly had tornado scares over the years, but seeing an actual tornado in a game such as this will be really cool as there have been very few games in existence to weather dynamics such as this.
There's not much known about the story at this time, but the setting will be in a fictional country in South America and Rico will also have to deal with a very powerful private military group. There will also be modifications you can do to Rico's grappling hook and you can also put balloons on your enemies that will apparently inflate and cause them to float away. I'm already excited about this game and can't wait to play it.
Just Cause 4 does have a release date and as of right now, the target is December 4th. I wouldn't be surprised though if there are some delays given the scope of the game and what all is planned on being in it. There will be a trailer at the end of this article of the game so be sure to check it out!
Elder Scrolls 6
It has finally and officially been announced. Elder Scrolls VI is actually coming and that's pretty much all that is known. There is a teaser trailer of the upcoming game and the terrain or landscape where it is apparently going to take place looks pretty impressive as there are some awesome looking mountainous areas.
Of course, Skyrim was very mountainous itself, but the landscape here looks like it will also be along a coastline. Unfortunately, other than what is shown in the teaser trailer, not much else is really known. There's no time table as to when it will be released, what the story will be about, or even what systems it will be released on.
There are some strong indications though that the game itself could very well be headed to the next generation of game systems. I know that might come as a shock to a lot of people especially given the fact that the PS4 Pro and even the XBox One X haven't been out that long, but Sony has already stated that the PS4 has now come into the last stages of its life cycle and Microsoft has already indicated that the next major XBox system is well into development.
You can't blame them especially since PC games are getting the superior versions of these great games with better frame rates and graphics as well, but that's not to say the graphics are horrible in the console versions, especially the 4K versions of the PS4 and Xbox One.
Only time will tell of what systems exactly Elder Scrolls 6 will be released on. Given the scope of Bethesda's previous Elder Scrolls games, it would make sense for them to want to release it on newer game systems that have more powerful hardware. I certainly believe though that the PS4 Pro and XBox One X could handle what they want to do in the game. All I can say is to stay tuned as Bethesda will eventually release more information in the future of this highly anticipated sequel.
The Crew 2
I've talked a lot about this upcoming open world racer. The developers recently had a closed beta of the game that I was lucky enough to participate in which you can read more about here. Even though the game's release is imminent (June 29th is when it will be out), the developers wanted to give it one last go round for people to see before it's officially available to the public.
There's really not much else to say about the game that you don't already know especially from what I talked about when I got to play in the closed beta. All the cities and the map from the original game are back with some upgrades to make room and use for the newer vehicles that can be used which we know are going to be boats and airplanes.
The graphics are definitely improved from the first one, but still below the graphics of another open world racer that graces the XBox which is the Forza Horizon series (and they've got another game/sequel on the horizon).
There's actually going to be an open beta available this coming weekend (June 23-24) for anyone who wants to try it out and didn't get to participate in the closed betas of the game that the developers had in the past. I still have the game (beta) installed on my PS4 Pro so I should be good to go come the weekend.
Other Open World Games
There are other open world games that are coming to the PS4 as well. The new Spider Man game is one of them and we also know that Red Dead Redemption 2 is coming out as well though it won't be out until next year and Rockstar is not know for showing any of its upcoming games at E3 and this one was no different.
There is a new Assassin's Creed game coming called Odyssey and the last few games in the series have been open world. The setting for the newest one appears to be in Greece or the islands around, basically around the time of the Spartan's and the Persian Empire (300?).
One thing that is mentioned as being dramatically different this time around in the Assassin Creed series is that this game will be an RPG. The game will also have a very heavy focus on decision-making and the ability to play as a major female character through the whole game if you so choose. Gamespot has a great article on this if you want to read more.
Conclusion
As you can see, there are some open world games that have been shown that are definitely worth getting excited about. I really can't wait to play Just Cause 4 and get deeper into The Crew 2 especially since it is coming out very quickly.
It's also great to know that Elder Scrolls VI is coming and that Assassin's Creed is going down the RPG route, but still remaining an open world game.
Even though Red Dead Redemption 2 wasn't shown at E3, it still is one of the biggest open world titles to get excited about especially since it's being produced by Rockstar and of course we just can't forget their continuous support to the online portion of GTA V.
I'm sure there will eventually be more game announcements outside of E3 now that it's over. Are there any games mentioned at the expo that has you really excited? Check out the trailer below of Just Cause 4, it'll get you pumped up for the game!