This is a page dedicated to probably one of the best open world games on the current generation (and PS3 and Xbox 360) of systems so far. What has really kept me hooked to playing this game is the online portion of the game as Rockstar has added so much to it in order to keep it fresh.
Grand Theft Auto V is also one of the best looking open world games on the systems and the attention to detail is just even more evident than on the older versions of the systems from last generation.
As I mentioned before though I play this game more than any other right now and play the online multiplayer portion of it. What I like about it is that the online world is alive with npcs and other players creating such a dynamic experience with so many challenges, missions, etc.. to participate in. My favorite challenge to participate in is the survival challenges as I've mentioned in other posts and you can rack up quite a bit of money especially if you can complete all ten rounds. Keep checking back to this page as I will update periodically with my experiences in GTA V for the PS4.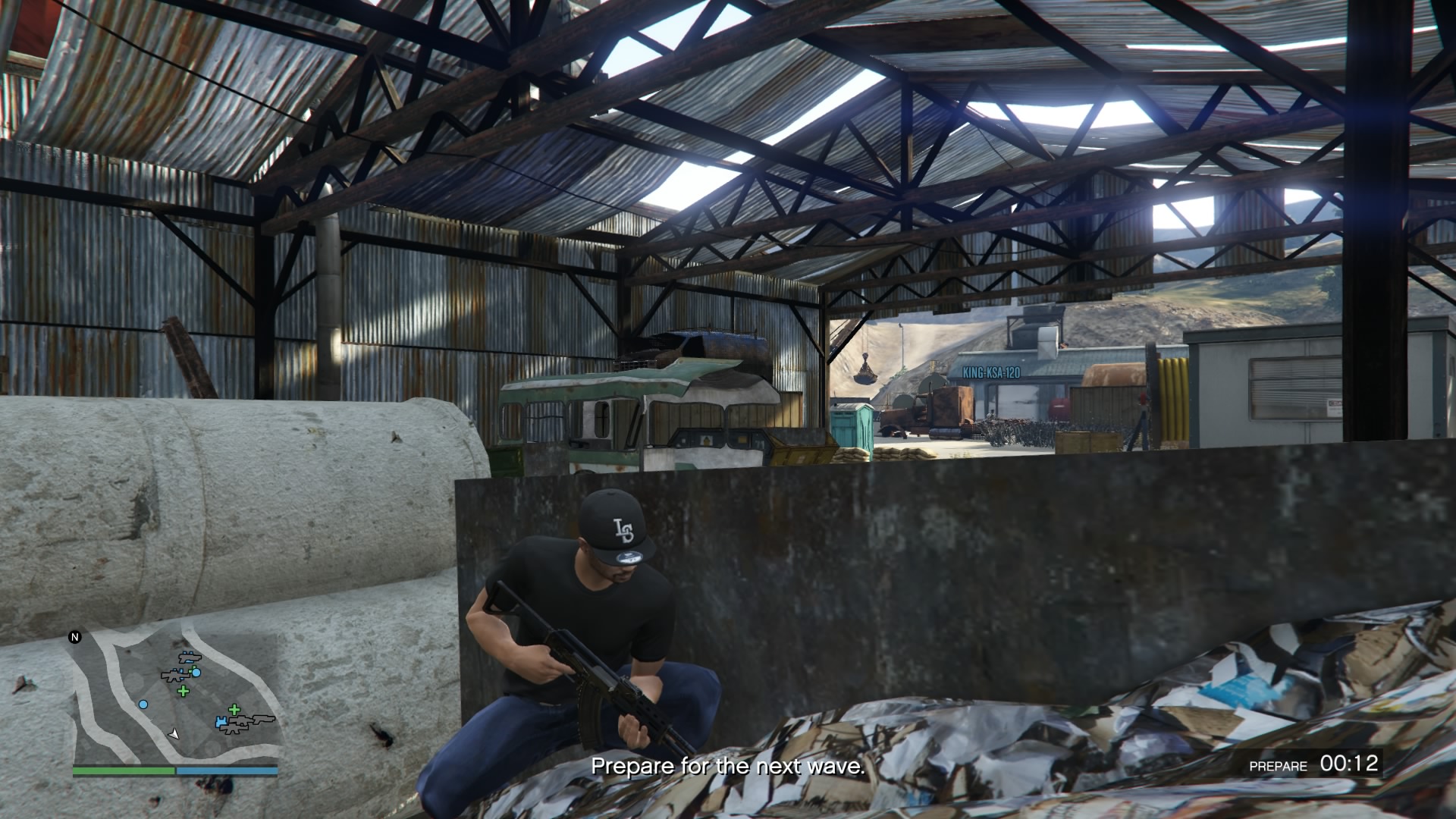 ---
New Update for GTA 5 – Rockstar has just done it again! They've released a new update for GTA 5 this weekend and a new game mode online that should be a blast to play! More
---
What to Buy in GTA 5 – There are a lot of games where you can earn and gain large amounts of money, sometimes in a short period of time. The thing is though, some of those games do not give you many options of what you can do with that money and so you hold on to it and keep making more, but not really able to buy anything. More
---
GTA 5 Police Chases – Time for another GTA V post! Today, as you can see by the title, I will be talking about GTA V's police chases. I'm sure most of you who own the game have come up against law enforcement in the game and they certainly can be very brutal at times. More
---
Have a GTA Valentine's Day! – This weekend, GTA has decided to release new content just in time for Valentine's Day. What better way to enjoy love this weekend by having a GTA Valentine's Day! More
---
Even More New GTA DLC! – Yes, you heard that right folks! Rockstar just keeps on going when it comes to this game. There is now even more new GTA dlc (downloadable content) coming and I just not too long ago mentioned about a new game mode that Rockstar said was also being released.
---
New GTA 5 News! – It has been a little while since I've mentioned anything new in regards to this game, but there is actually some new GTA 5 news circulating out there! If you like playing GTA V's online multiplayer mode.. More
---
GTA V's Rhino Tank – In the last post I had about GTA V, I talked about the Hydra jet and how I use it and just what it is capable of. I love the jet fighter but need to spend more time with it to better utilize it especially against other players. More
---
GTA V's Hydra – I want to go back and talk about GTA V's Hydra. Yes, I have talked about it a little bit before in a previous post, but I really do like to use it when I can. It is one of the easier fighter jets to get access to in the online multiplayer part of GTA V and it seems a lot of people tend to use it as well. More
---
New Content to GTA V – Rockstar has released some new downloadable content to GTA V. This time the DLC released contains low-riders. In the trailer that is shown, I must say that they look really nice especially with all the modifications you can to them. More
---
GTA Sandy Shore – Survival Pt. 2 – If you read part 1 of my survival series, I talked about two of my favorite places that I do the survival challenges at. My most favorite is El Burro Height followed by GTA's Sandy Shores and it is Sandy Shores that I will talk about in Part 2. More
---
GTA El Burro Heights – Survival Pt. 1 – If you have read some of my past posts of GTA V, you might have read that one of my favorite online activities in the game is doing the survival challenges. More
---
My GTA V Military Vehicles – There are a number of vehicles in GTA V and nearly all of them can be used or owned by you especially in multiplayer. There are some special vehicles however, that provide some serious muscle should the need ever arise when you need to take out other players in free roam or missions become available where they can be used and in GTA V they are military vehicles. More
---
GTA V Multiplayer Weapons – There are a lot of people who play Grand Theft Auto V online and I am definitely one of those. At first it was difficult for me to do so because I kept getting killed all the time in free mode from other more experienced and higher ranked players. More
---
GTA 5 Multiplayer Fun – In my review of GTA 5 for the PS4, I mentioned a little bit about the multiplayer part of the game and how I generally did not play it very much as it was very easy to get killed when more experienced players pretty much just want to take others out. More
---
Grand Theft Auto 5 Updates – If any of you have been playing Grand Theft Auto 5 and been following updates for the game, I'm sure you know that Rockstar has released its latest downloadable content, Grand Theft Auto Online Heists. More
---
GTA Five Downloadable Content Leaked? – As most everyone knows, the latest downloadable content for Grand Theft Auto V was recently released. The much anticipated GTA Online Heist missions are finally available and first impressions and reviews have been very positive. More
---
GTA V Online Heists Release Date – Game developer Rockstar has promised for sometime that we would be getting heist missions to play in the online multiplayer of Grand Theft Auto V. The heist missions of the single player were so popular that gamers wanted to have those type of missions in the online world. More
---
Grand Theft Auto Cheat Codes – The Grand Theft Auto series has been one of my most favorite open world game series of all time. I certainly remember playing the first iterations of the game on PC and the first PlayStation back when it was only capable of running in a top down view. More
---
Grand Theft Auto 6 Rumors – Grand Theft Auto V has been out for the PS3 and Xbox 360 for over a year now and a few months for the PS4 and Xbox One. That hasn't stopped rumors flying around though about what the next Grand Theft Auto game could entail. More
---
Los Santos and Los Angeles – Los Angeles is America's 2nd largest metropolis and also a very well known city worldwide. Hollywood and the movie industry is based out of there and lots of celebrities live out in the LA area. More
---
GTA V PS4 Review – It is now officially here for the new generation, Grand Theft Auto V. Now that I've had some time to play with it for awhile, let me tell you, it is definitely a beauty to behold! More
---
First Person Mode in GTA V – Yes, the title is correct. There will be a first person mode in GTA V when it is released for the PS4 and Xbox One on November 18th. This will be the very time a Grand Theft Auto game officially has a first person mode that is not part of a mod. More
---
GTA V Release Date on PS4 – It's getting much closer!! The official GTA V release date on PS4 is on November 18th so there is still time to preorder the game. Rockstar has also promised that if the game is preordered, they will give you $1,000,000 of in game cash to use, $500,00 for single player and $500,000 for multiplayer. More
---
It's now official, Grand Theft Auto V is coming to the PS4 – Yes you heard that right, GTAV is coming to the PS4 as well as to the Xbox One and PC. This was announced back at E3 in July by Rockstar and will be coming out sometime in either the 3rd or 4th quarter of this year. More