I am back with another city comparison this time between The Crew's Miami and the actual city of Miami. Last time I had done the city comparison's of Detroit. I had talked about the city's decline and grittiness and how they captured that fairly well in The Crew's version of Detroit. Well I think it is time to move on to a city that's known for great weather, awesome beaches, and towering condos and other skyscrapers. Let's visit Miami!
As you all should know, Miami is in Florida, specifically the southeastern section of the state and is not too terribly far from the Florida Keys. Many movies and TV shows have been filmed in this city, a city that has a Caribbean feel to it.
Now like Detroit, I've never been to this city. I've heard lots of good things about it and that the culture and atmosphere there is amazing. You'll see a lot of wealthy people there especially in the surrounding areas and it is not uncommon to see a lot of the vehicles most of which we wish we could drive such as Lamborghinis and Ferraris. The architecture of Miami is really good and you'll see lots of unique houses, condos, and apartments.
Miami has lots and I do mean lots of tall buildings. In fact it has the third tallest skyline in United States with over 300 high-rises and 70 of those taller than 400 feet according to Wikipedia. I love city skylines and The Crew doing a fantastic job of replicating the Miami skyline in the game. You will definitely see many of the same buildings that comprise the real Miami skyline such as the Southeast Financial Center, Epic building (not to be confused with the Epic Center in downtown Wichita, KS), and 701 Brickell Avenue just to name a few. Now that's just the downtown Miami skyline, there are even more tall skyscrapers in nearby Miami Beach which are all generally large condo towers.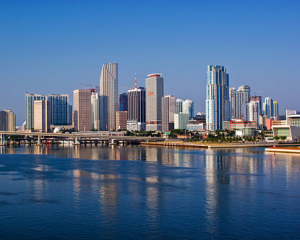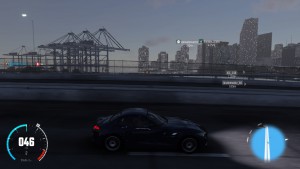 A lot of those towers are along the pristine beaches there and you'll usually see a lot of wealthy people in this area. The Crew recreates this very well too and it just has the feel of everything Miami down pat it seems. As I've said before, I've never been to Miami before but compared to all the pictures, videos, movies and tv shows of Miami, this game has done such a faithful recreation of it. It really feels like I've traveled to this city before even though I haven't.
They even recreated the American Airlines Arena which is pretty much spot on to the real one. If you're from the Miami area, you probably know that the American Airlines Arena is where the city's NBA team, Miami Heat, play basketball. I'm sure most people who follow the NBA are very familiar with that team as LeBron James played basketball there for a few years.
Now let's get to the highways. Miami is of a course a major city in the US and does have some major freeways. I would not say it is as extensive as some other American cities, but what it does have is quite large and a some are elevated especially in the downtown sections of the city.
The city also has numerous bridges to other sections of the metro area most noticeably Miami Beach. The main freeway corridor in Miami is interstate 95. The Crew recreates it here very well and it elevates as you come upon the downtown area just like it really does in the real city of Miami.
Interstate 95 continues on down into the Florida Keys where it ends or begins depending on where you're traveling. The game gets it right here also except that the Florida Keys here are much closer to Miami than they actually are as I believe they are about an hour south of Miami in real life.
Of course since the game map is not to scale it will not take as long to get there which is a good thing as the map is already big enough! Now I've mentioned that there are also some spur interstates in Miami in The Crew which would be interstates 395 and 195 in the actual city. Once again, the developers did a fantastic job of recreating them here in the game as far as alignments go.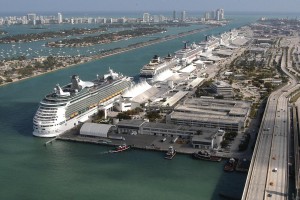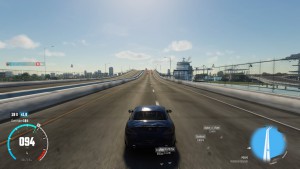 Interstate 395 goes right by downtown in the game, goes right by the American Airlines Arena, and over a large body of water which is an awesome drive because you are driving towards Miami Beach with its massive condo towers and beaches and as you drive on the bridge, you can see very large cruise ships and a large port as well. Miami in real life is home to Carnival Cruises so it is no surprise that you'll see very large cruise ships in this city.
I love that they included them in the game although you cannot board them. Next is interstate 195 which is a little bit further north and also goes over a large body of water and into north Miami Beach. The bridge here is not as impressive as the I-395 bridge, but still nice nonetheless.
The freeways though are just not as wide as they are in the real city. I've mentioned this a lot in my past city comparisons from The Crew. Even though I-95 in the game roughly follows the alignment of the actual interstate, it is just a 4 lane wide freeway and not the 8 to 10 lane highway it actually is in Miami. The city in the game is just one of the many included that do not have the highways larger than 4 lanes. Again, not sure why the game developers chose this route, but I'd rather have them in the game than none at all.
Well there you have it folks, another city comparison from The Crew and its real life counterpart. I certainly hope you enjoyed reading that. There is a video below of my drive around the highways of Miami in The Crew and it is just a cool video to watch as I drive by the massive downtown skyline and towards Miami Beach.
If you haven't already picked up The Crew, get it now so you can drive around the cities of the game and see how they compare to the real ones yourself. Oh yeah you might want to do some races in the game as well! My next city comparison is planned to be Chicago so always check back!