I have bought another accessory for the PS4 which is the PlayStation 4 Camera. I have had some time to test it out and give my review and thoughts on it.
It is quite easy to mount it on your television as it comes with a stand that you hook it on to and put it on top of your television. The back of it has a foldable ridge or hinge that you'll want to angle down so that it provides support and keeps the camera on top of your tv or monitor.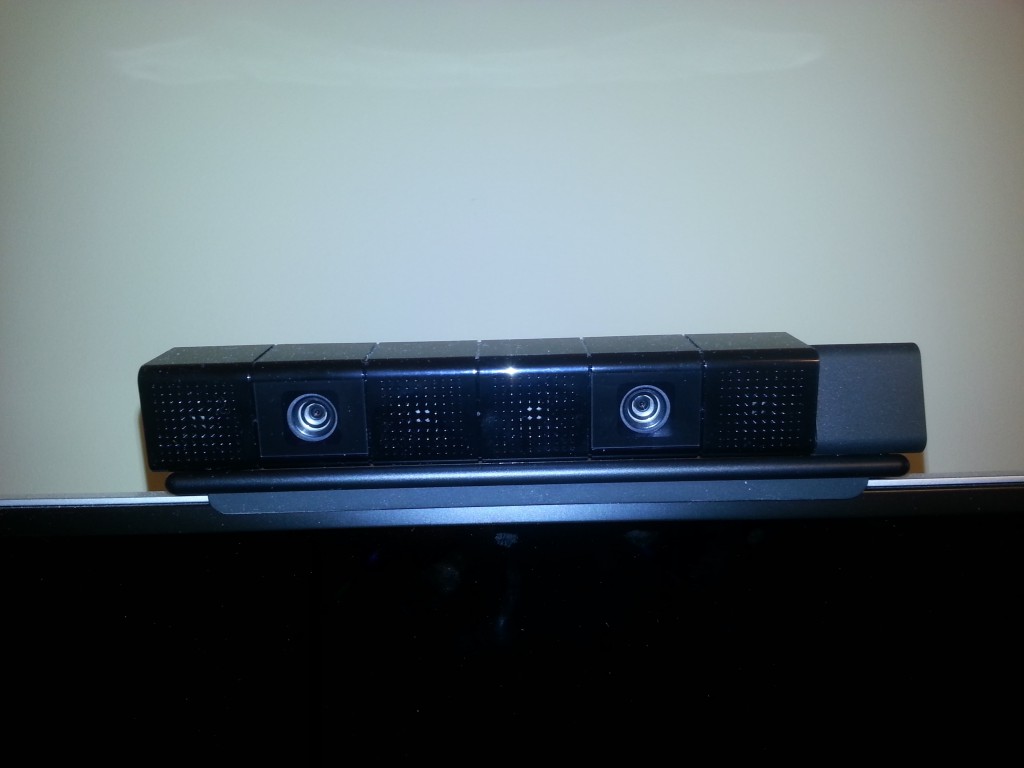 As you can see from the photo above, there are 2 lenses on it and the other 4 blocks with holes on them are actually microphones so that way you can actually enter voice commands if you wanted to on the PS4 or for games that support it. What is nice about that as well is when you play online, you can use the camera's microphones to chat instead of the small one included with the game system or buying a separate headset for it.
A nice feature of the PlayStation Camera is that it has facial recognition technology which will enable you to log into the PS4. All you have to do is move your face into the zone that the camera needs to recognize your face, and once it accepts or recognizes you, you're in! It makes logging into the PS4 a breeze.
My primary use of the PlayStation Camera is for live streaming activities which is what I'm starting to get into now via twitch tv and Live from PlayStation. The people watching your live stream will get to see a window of you while you are playing a game live. It can be quite funny to see the reactions of the person playing a game live when a crazy or challenging moment comes up in a game. To me, it adds a personal touch so that way your viewers feel that a real person is going through the same challenges or fun times in a game that they have.
Now you might be wondering if there are any other uses for the PlayStation Camera besides just using it for live broadcasts. Sadly there just isn't a whole lot more you can do with the PlayStation Camera. There just really aren't any games that utilize the camera and I can understand why. Since the PlayStation Camera is a stand alone accessory, there's no guarantee that every PS4 owner will have one so that makes the user base very small. I know Sony thought about including the camera with the PS4 much like Microsoft did initially with the Xbox One and the Kinect. The price would've been higher for the PS4 system if Sony went that route and so they decided not to which honestly I am happy with. Why include a product that may not get a lot of use?
On the other hand if it was included, it may have given more game developers an incentive to come up with games that could've taken advantage of the camera. I honestly think it has a lot of potential if more developers were on board with making games that take full advantage of the camera.
There is something though called The Playroom which is included with the PS4 and takes full use of the camera as well as the DualShock 4 controller. There is a mini game on there called Asobi which is kind of like a pet robot. It is summoned by rubbing the touchpad and then players can interact with Asobi in different ways. The pet like robot also has the ability to recognize other people through the facial recognition of the PlayStation Camera. Think of this as a step up from EyePet. There are other mini games on there as well that take use of the DualShock 4 and some other uses of the camera, but it is not extensive at this time.
I will only recommend the PlayStation Camera if you are planning to do live broadcasts of your gameplay and you want people to see who you are while playing which is what I primarily bought it for. It does make logging into the PS4 easy and The PlayRoom mini games for it can be fun for a little while, but other then that, there's not much else. As I mentioned before, there aren't really any games that take advantage of the PlayStation Camera and there really is not much indication that this will change in the future.
I ended up buying this at GameStop for $59.99 which is the same cost of a brand new game. It really is up to you to decide if it worth it or not. I give it a 3 out of 5 stars and would be glad to rate it higher if only there were good games to utilize the PlayStation Camera.
If you want to see me with the PlayStation Camera in use, then sign up to my newsletter and get exclusive access to my broadcast channel. I'll be playing open world such as The Crew, Grand Theft Auto V, and Need For Speed Rivals. I will also show case new games as the come out such as the highly anticipated Batman Arkham Knight that is slated to come out on June 24th. Always check back here for updates and reviews!
Summary
Author Rating



Brand Name
Product Name